A delegation of the Party, State, National Assembly, Government and Vietnam Fatherland Front (VFF) on February 3 paid tribute to late President Ho Chi Minh at his mausoleum in Hanoi on the occasion of the 86th anniversary of the founding of the Communist Party.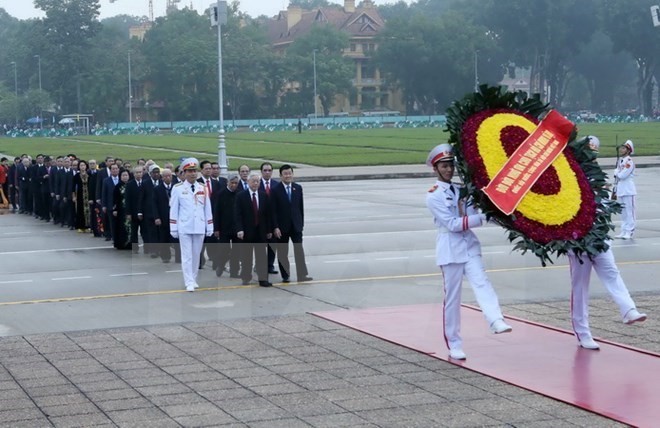 Leaders pay tribute to late President Ho Chi Minh at his mausoleum on Feb. 3 (Photo: VNA)
Attending the ceremony were Party General Secretary Nguyen Phu Trong, National Assembly Chairman Nguyen Sinh Hung, Prime Minister Nguyen Tan Dung and President of the VFF Central Committee Nguyen Thien Nhan.
Former Party, State, NA and Politburo members were also present at the ceremony to show their respect and gratitude to the late President – the founder of the Party.
The delegation also laid a wreath at the Monument to War Heroes and Martyrs.
On the same day, delegations from the Central Military Commission, the Ministries of Defence and Public Securities, and the Party Committee and People's Committee of Hanoi, also showed their respect to President Ho Chi Minh, heroes and martyrs.
The establishment of the Communist Party on February 3, 1930 was an important turning point in the country's revolutionary history, marking a milestone on its development path.
Over the past 86 years, under the leadership of the Party, Vietnam has overcome many difficulties and challenges, and achieved great accomplishments during the reform process.-VNA