National leaders greeted students and teachers on the start of a new academic year with praise and exhortations for all-round improvement towards value-based education.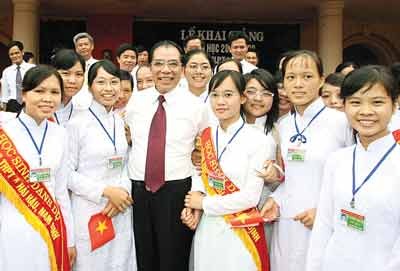 Party General Secretary Nong Duc Manh (3,L)attends an opening ceremony held at the Hai Hau A High School
Leading the group of leaders who personally visited schools in various parts of the country was Party General Secretary Nong Duc Manh who attended an opening ceremony held at the Hai Hau A High School in the northern province of Nam Dinh.
Manh stressed the need for the education sector to renovate curricula and teaching methods while imparting lessons in morality, lifestyle and career orientation.
He lauded the high school for achieving its status as one of the leading high schools in the country, and reminded students about the need to learn and follow the example set by Uncle Ho.
State Vice President Nguyen Thi Doan praised teachers and students of the Le Quy Don high school in the northern province of Thai Binh, noting that despite the province's ongoing struggle against poverty, it had recorded a high number of passing graduates.
In Lao Cai, a province hit hard by natural disasters recently, teachers, students and residents continued to clear the rubble as the new academic year began.

The local administration has encouraged residents to provide rooms to hold classes for some schools that had been destroyed in the last floods.
Speaking at the opening ceremony at Tran Dai Nghia High School in Ho Chi Minh's city's District 1, Party Committee Secretary Le Thanh Hai asked the city's education and training sector to bridge the gap between schools in the suburban and inner areas.
Nguyen Thi Thu Ha, Deputy Chairwoman of HCMC People's Committee, attending the ceremony at Truong Vinh Ky private school launched a campaign where schools pledge that no student will engage in unlawful activities and that they will provide instruction on proper behavior at public places.
There was excitement in the air at the Nguyen Van Cu High School in Hoc Mon District as teachers and students began the new school year in a newly-built building. The number of students admitted into the school is double that of last year.
The Education Union marked the start of the academic year with a campaign to support students in mountainous, inaccessible and underprivileged areas. The union will collect clothes, textbooks and cash to help students from these areas. The campaign started on September 5 and will run through October 15.