Germany's current population is about 82.3 million but German is a native language of over 100 million people in Europe. Besides native speakers, many others are using the German language.

One of the reasons why they learn this language is opportunities to study or work in Germany. The country awards lots of scholarships to study in Germany. Working holiday visas are available for young foreigners, and special visas are offered to skilled workers and professionals.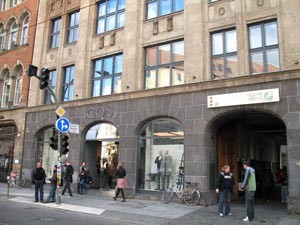 The Goethe Institute Berlin located at Neue Schoenhauser Str. 20, 10178 Berlin (Photo: Tuong Thuy)
Learning German at the Goethe Institutes in Germany is much more than a language course. Learning with enjoyment and fun are seen at the institution. The Goethe Institute Berlin, which is located in the city' heart, has 14 classrooms and seminar rooms. In classroom 203 when I came recently were 13 students of different nationalities and teacher F. Fuster.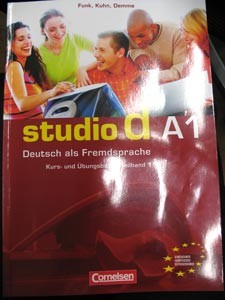 The book used for level A1 (Photo: Tuong Thuy)
The students are at level A1, which follows the beginner's level. I saw interaction among the learners, as well as interaction the teacher and the class as a whole. The student's book is Studio d A1 – Deutsch als Fremdsprache (German as a foreign language). The 13 students, who come from China, Congo, Israel, Libya, Spain and some other countries, were studying in small groups. During class, the groups played bingo games in which the numbers were spelled out from the cassette player.

Teacher Fuster shifted her instructions among reading, listening, writing and speaking skills. She also changed the use of media – the student's book, white board, cassette player and pictures. She and all of her students spoke only German.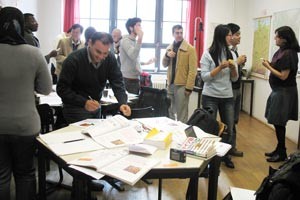 The level A1 class in room 203 at the Goethe Institute Berlin (Photo: Tuong Thuy)
I asked Ms. Margarete Barasch, pedagogical director, at the Goethe Institute Berlin if it was a rule that only German could be used in class. She said, 'Yes, it's a rule."
This rule is that in a group of different nationalities, students must speak German right from the very first lesson. Therefore, they are able to easier develop their communication skills.

At the Goethe Institutes, after the beginner's level are levels A1, A2 (basic language use), B1, B2 (independent language use), C1, C2 (Proficiency) and higher than C2. C2 is required for higher education in Germany.
The levels are based on the common European reference framework for languages. For example, a student starting with no knowledge of German can take 8–12 months of intensive instruction and acquire sufficient skills in all aspects of the language to enter university studies in Germany.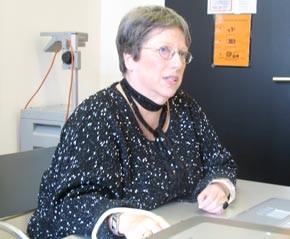 Margarete Barasch, pedagogical director at Goethe Institute Berlin (Photo: Tuong Thuy)
Pedagogical director Barasch says if foreign students learn German at the Goethe Institutes outside Germany, it can take two years to reach C2. She adds the time needed can change, based on the fact that whether the learner has or has not studied a foreign language, and how far his or her mother tongue is from German.
In all courses at the Goethe Institutes, the student has access to a media resource center for individual practice and study. All course materials are included. The institutions say learning German at the institutes means learning consultation, a placement test and final test, all learning materials, media resource and self-learning center, cultural and leisure programs, conversation partners, examinations and accommodation service (if requested).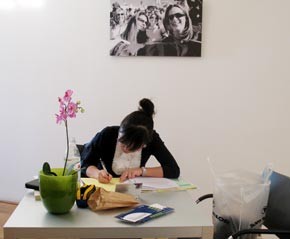 A student in self-study time at the Goethe Institute Berlin (Photo: Tuong Thuy)
Language levels (based on the common European reference framework)
A1
Can understand and use familiar everyday expressions and very basic phrases aimed at the satisfaction of needs of a concrete type. Can introduce him/herself and others and can ask and answer questions about personal details such as where he/she lives, people he/she knows and things he/she has. Can interact in a simple way provided the other person talks slowly and clearly and is prepared to help.
A2
Can understand sentences and frequently used expressions related to areas of most immediate relevance (e.g. very basic personal and family information, shopping, local geography, employment). Can communicate in simple and routine tasks requiring a simple and direct exchange of information on familiar and routine matters. Can describe in simple terms aspects of his/her background, immediate environment and matters in areas of immediate need.
B1
Can understand the main points of clear standard input on familiar matters regularly encountered in work, school, leisure, etc. Can deal with most situations likely to arise whilst travelling in an area where the language is spoken. Can produce simple connected text on topics which are familiar or of personal interest. Can describe experiences and events, dreams, hopes & ambitions and briefly give reasons and explanations for opinions and plans.
B2
Can understand the main ideas of complex text on both concrete and abstract topics, including technical discussions in his/her field of specialization. Can interact with a degree of fluency and spontaneity that makes regular interaction with native speakers quite possible without strain for either party. Can produce clear, detailed text on a wide range of subjects and explain a viewpoint on a topical issue giving the advantages and disadvantages of various options.
C1
Can understand a wide range of demanding, longer texts, and recognize implicit meaning. Can express him/herself fluently and spontaneously without much obvious searching for expressions. Can use language flexibly and effectively for social, academic and professional purposes. Can produce clear, well-structured, detailed text on complex subjects, showing controlled use of organizational patterns, connectors and cohesive devices.

C2
Can understand with ease virtually everything heard or read. Can summaries information from different spoken and written sources, reconstructing arguments and accounts in a coherent presentation. Can express him/herself spontaneously, very fluently and precisely, differentiating finer shades of meaning even in more complex situations.