Two people were killed when a USA-marked bomb leftover from the war exploded in Tan Dinh Commune of Binh Duong, immediately to the north of Ho Chi Minh City, on March 8.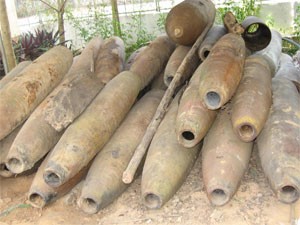 Bombs leftover from the war still pose dangers to lives of many Vietnamese people
A 500- pound bomb exploded on a 500 sq. meter farm belonging to Mr. Dau Ngoc Xuan in Hamlet 1, Tan Dinh Commune of Tan Uyen District, according to a statement by Binh Duong Province Military Headquarters.

Mr. Nguyen Van Thanh, 30, of Hamlet 1, and Mr. Vu Van Dung, 20, of Cay Chanh Hamlet were killed attempting to dig up the one-meter-long bomb. Both hamlets are part of Tan Dinh Commune.

The blast destroyed Mr. Xuan's unfinished house, burnt many cashew trees, and knocked down all 100 rubber trees growing on the farm.

A similar explosion also took place in Tan Uyen District one month ago, also killing two.