The office of Vietnam's first General Vo Nguyen Giap confirmed of his passing away on October 4.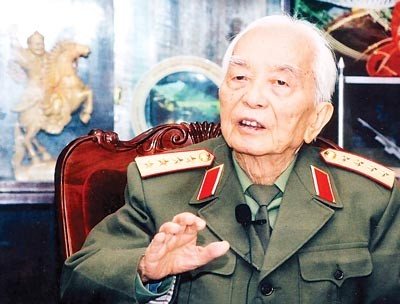 Legendary General Vo Nguyen Giap (Photo: SGGP)
The first General and the Supreme Chief Commander of the Vietnam People's Army died at 6.09pm on October 4 at the Army Hospital 108 in Hanoi, more than a month after he celebrated his 102th birthday.

The General was born on August 25, 1911 in Le Thuy District in Quang Binh Province in the central region of Vietnam.
He recently celebrated his 102nd birthday on August 25. In June 2009, due to old age and infirmity, he was moved to the Army Hospital 108.

Gen. Vo Nguyen Giap is considered as the Founder and the First Commander of the Vietnam People's Army. He was the first soldier who was awarded the title of General of Vietnam People's Army when he was 37-years-old in 1948.

He led the Vietnam People's Army to defeat the French and US in 1954 and 1975 respectively. He directly commanded major operations including the Dien Bien Phu campaign in 1954 and the Ho Chi Minh campaign in 1975, both of which were momentous turning-points in Vietnam's history.

During his lifetime, he held many important positions such as Politburo member; Home Affairs Minister, Defense Minister; Commander-in-Chief of the Vietnam's Military; and Deputy Prime Minister.

Foreign newspapers release news of General Vo Nguyen Giap's death

Prominent press agencies across the world on October 4 simultaneously released news of the death of General Vo Nguyen Giap, with title of Legendary Vietnam Gen. Vo Nguyen Giap dies at 102.

AP news agency said Gen. Vo Nguyen Giap, a national hero, enjoyed a legacy second only to that of his mentor, founding president and independence leader Ho Chi Minh.

The Washing Post has a 3,000 word article on the General, reviewing his autobiography, brilliant landmark in his army career as well as the preeminent general's daily life.

Meanwhile the UK's Guardian has an article with the title 'Vietnamese General behind 2 victories over French and US dies aged 102' focusing on victories of Dien Bien Phu battle and the Ho Chi Minh campaign.

German's Spiegel and Canada's Globalpost all released news of Vietnam's legendary general who is immortal in each Vietnamese people's hearts.

Right after the news of General Vo Nguyen Giap's death, local and international social network sites are full of admiration and mourning over the globally well-known and Legendary General