National Assembly (NA) deputies on Nov. 2 addressed instabilities in economic development and proposed solutions for a sustainable development while reviewing this year's socio-economic performance and previewing socio-economic development plan for 2011.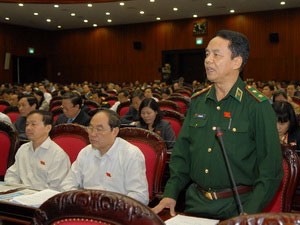 Deputy Vo Trong Viet, northern Son La Province, speaks at the National Assembly sitting on November 2 (Photo: VNA)
The deputies applauded achievements in the socio-economic development last year, with many agreeing that though the world and Vietnam have faced many difficulties and challenges, the country achieved main targets basically in 2010.
 
They said the Vietnamese economy has recovered rapidly from the global crisis, and the growth rate was higher than the targeted one.
However, some said the growth rate was high but people's living conditions have not improved very much. This showed that growth was unsustainable.
The deputies expressed their worry about inflation, saying that prices of many goods soared sharply and the economy's efficiency and competitiveness remained low.
Deputy Tran Du Lich from Ho Chi Minh City said the budget overspending and trade deficit were direct causes of instabilities in not only 2010 but also coming years.
He said, the country seemed to post high growth rates in 2009 and 2010 thanks to the growth of credit and public investment.
When credit and public investment grow, imports and trade deficit will surely increase, he added.

Solutions
Deputy Huynh Van Tiep, southern Can Tho City, said the gross domestic product (GDP) growth should be set at 7 percent for 2011, and the consumer price index should not be set higher than 7 percent.
The 2011 budget deficit target should be kept under 5 percent of GDP to ensure national financial security, he added.
In addition, the government needs to take measures to reduce trade deficit, boost export and monitor import closely, he said.
Deputy Vo Thi Hong Thoai, southernmost Bac Lieu Province, said it will be difficult to meet the target of reducing "excessive" imports from 19 per cent of the total cost to 14 per cent by 2015 without a "breakthrough policy."
The deputy suggested fostering support industries through incentives such as those offered to foreign direct investors as a way to reduce unnecessary imports.
Deputy Phuong Huu Viet, northern Bac Ninh Province, suggested Vietnam become a key exporter of agri-forestry-fishery produce.
"We should strive to bring made-in-Vietnam food and drinks to many families in the world and help 70 per cent of our farmers to become rural entrepreneurs," he said.
Vinashin
The deputies also assessed the collapse of the Vietnam Shipbuilding Industry Corporation (Vinashin) and suggested measures to revamp it and better manage State enterprises.
Deputy Tran Du Lich attributed the group's collapse to its unqualified personnel besides ineffective investment, financial woes, and poor management.
The deputies linked Vinashin's failure and numerous other socio-economic problems with inadequate personnel training.
Deputy Hoang Van Toan, northern Vinh Phuc Province, said the capacity of both workers and managers is inadequate.
"We need to improve the national educational system," he said.
NA vice chairman Nguyen Duc Kien said the Government should establish an agency to manage capital and property of State-run enterprises in its next tenure.