The National Assembly (NA) is expected to adopt six bills and two draft resolutions during this week, as part of its eight session.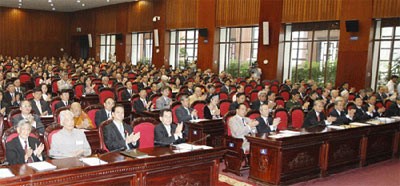 The National Assembly in its eighth session
The six bills include Law on Environmental Protection Tax, Inspection Law (revised), Law on Civil Servants, Law on Administrative Litgation, Law on Consumer Rights Protection, and Law on Minerals (revised).
The two draft resolutions are Resolution on the State Budget Allocation for 2011, and Resolution on Supervisory Activities of the NA.
The NA deputies will also discuss other bills, including Complaint Law, Capital Law, Denunciation Law, Measure Law, Independent Auditing Law, Archives Law, Civil Litigation Law, and amended Cooperative Law.