Upon his arrival in Hanoi on July 21, President of the Thai Parliament Chai Chidchod entered into talks with Chairman of the National Assembly Nguyen Phu Trong, mulling over measures to boost bilateral ties to contribute to ASEAN unity.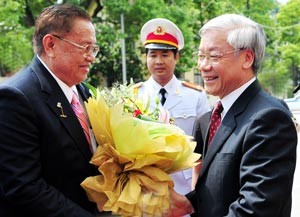 Vietnam's National Assembly Chairman Nguyen Phu Trong (R) greets his Thai counterpart Chai Chidchod in Hanoi July 21 (Photo: SGGP)
Chidchod, who doubles as Speaker of the House of Representatives, put forth a joint project on building a cultural centre in Thailand's Nakhon Phanom province, where Vietnam's first President Ho Chi Minh led his overseas revolutionary life. The project would aim to educate young generations of Thais and Vietnamese expatriates in Thailand on the long-standing relations between the two countries.
His initiative was warmly welcomed by his host, who promised to discuss concrete measures with relevant agencies to deploy the project soon.
The two sides also talked of teaching the Vietnamese community in Thailand their mother-tongue and encouraging them to visit and invest in their homeland.
The Vietnamese legislative leader pledged to create favorable conditions for Thai businesses to boost investment and trade in Vietnam in an effort to more than double bilateral trade revenue to 10 billion USD by 2010.
In the first half of this year, two-way trade reached 2.4 billion USD amid the global economic crisis.
Trong also sought support from Thailand, a member of the ASEAN Inter-Parliamentary Assembly (AIPA), to help Vietnam carry out its AIPA Presidency next year.
"The legislative bodies of the two countries and their agencies should further facilitate the exchange of visits and experiences in law-making and supervision," he emphasized.
"The Vietnamese National Assembly has so far established relations with 150 counterparts over the world and is making efforts to improve and take full part in inter-parliamentary forums on the regional and international scale," he concluded.
For his part, the Thai legislative chief expressed strong belief in Vietnam's future, saying the country would become "a power in the next 10 years".
He also asked for Vietnam's cooperation in maintaining security for the upcoming AIPA meeting in Thailand and solving outstanding problems in the Association of Southeast Asian Nations (ASEAN).
Rice exportation was another issue of keen interest to leaders of the world's two top rice exporters, who sought ways to sharpen the competitiveness of this major hard currency-earner while ensuring that farmers accrue more benefit.