National Assembly Chairman Nguyen Phu Trong visited the agriculturally-dominated Bo Duong hamlet in the Red River delta province of Hai Duong to attend a festival of national unity on November 14.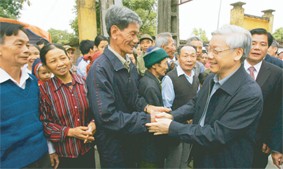 National Assembly Chairman Nguyen Phu Trong (R) meets residents of Bo Duong hamlet in Hai Duong Province on November 14
The chief legislator asked the locals to uphold the national tradition of solidarity in turning their homeland into a prosperous and civilized village.
"Great unity has brought the nation from victories to victories during the national history of construction and defense", Mr. Trong emphasized.
Bo Duong has successfully promoted the local pride as the native home of national hero Khuc Thua Du, who had laid foundation for the national independence more than 10 centuries ago to be recognized as a cultural residential quarter.
All locals of working age have got employed with per-capita incomes averaging at VND8.5 million a year.
As a result, almost 80 percent of the local families are well-off and all local families have televisions and radios. Electricity and safe water supply are accessible to the entire population.
On this occasion, NA Chairman Trong visited and presented gifts to Dang Van Chien, 89, a father of fallen soldiers, and the local kindergarten.
He also lit incense sticks and planted a souvenir tree at the temple dedicated to national hero Khuc Thua Du.