Lawmakers on Thursday heard and discussed several reports from the Government and some National Assembly committees on the fight against corruption and waste.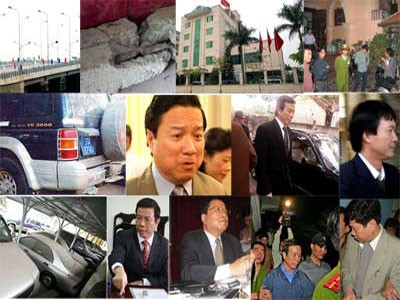 The PMU18 scandal in 2006 is one of the most notorious corruption cases in Viet Nam in recent years

A government report said that, between October 1, 2006 and August 31, 2007, ministries, agencies and localities discovered more than 440 cases of corruption and waste.

Of these, 406 cases with 826 arrests were prosecuted and VND70 billion (US$4.375 million) was retrieved out of the VND286 billion (around US$17.9 million) that had gone missing.

The Government Inspectorate and local inspectors found many violations that cost VND1.375 million all up, and settled 52 cases.

Vu Tien Chien, office manager of the Central Committee on Corruption Prevention, said the hardest thing was to unearth corruption in the first place.

Since the decree came in that requires political leaders to take responsibility for wrongdoing on their watch, only two officials of the Public Security Ministry and three leaders of An Giang province have been punished for corrupt acts under their authority, Deputy Inspector General Le Tien Hao said.

"The relevant authorities discovered few instances of corruption in their offices. Most cases were brought to light thanks to whistle blowing by the public and the media. In some instances, corrupt civil servants gave the game away themselves," NA Legal Committee chairwoman Le Thi Thu Ba said.

Even when inspectors found out the truth, the corrupt officials only got administrative penalties or were fired, which the public regarded as way too lenient.

NA Vice Chairman Nguyen Duc Kien said that administrative punishment was becoming too common and did nothing to deter wrongdoers from offending again.

Chairman of the NA Ethnic Council K'sor Phuoc suggested a few measures to fight corruption, saying that "ministers should be authorized to dismiss or propose the Prime Minister dismiss corrupt deputy ministers."

Corruption was all too likely in finance, share and real estate trading, and especially infrastructure construction, Phuoc stressed, and singled out money laundering for special mention.

Meanwhile, NA Vice Chairman Nguyen Duc Kien stressed that it took "transparency and responsibility" to settle corrupt acts.

Another government report shows that only three out of eight high-profile corruption cases have gone to trial so far.

Another NA deputy also shared the same point of view. "The Prime Minister instructed that these cases be resolved by late 2006. However, it seems that we must leave them until next year," Tran The Vuong, head of NA People's Petition Commitee said.

NA Chairman Nguyen Phu Trong recommended that the Government formulate specific measures to improve the effectiveness of the Law on Thrift Practice and Wastefulness Combat and to better combat corruption generally.