Legislators on Monday all agreed that the government should reduce the number of registered vehicles as part of an effort to curb accidents on the roads.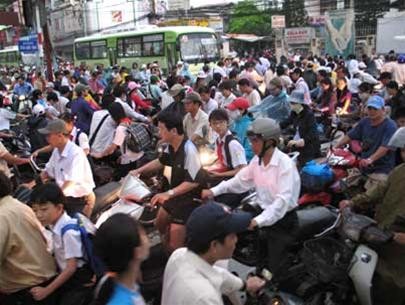 Traffic jam is a common thing in Ho Chi Minh City (Photo: TTO)

During yesterday meeting of the NA's Standing Committee, which focused on traffic accidents, most deputies said there should be stricter rules to punish violations and limit the number of private vehicles.

Deputy Pham Minh Tuyen said frequent congestion in big cities like Ha Noi and Ho Chi Minh City is due to limited land for traffic, poor management of relevant authorities and limited number of traffic wardens.

Many deputies expressed their concerns over inadequate enforcement of punishment and vehicle registration rules.

Transport Minister Ho Nghia Dung admitted that traffic jams and accidents have shown an increasing trend. "The problem has been largely blamed on local authorities' ignorance and failure to take firm measures to reduce traffic accidents," said the minister.

His criticism was shared by Chairman of the NA Committee on National Defense and Security Le Quang Binh, who pointed out that poor management of local and state offices contributed to the problem.

"Local administrations from the central to grassroots levels have shown poor and problematic performance in ensuring traffic rules," Binh said.

He proposed for higher fines and additional punishments on violations and tough policies towards limiting private means of transport such as levying traffic fees on private means of transport in an effort to curb traffic accidents.

Many other senior law makers such as head of the NA Board for Deputies' Work Pham Minh Tuyen, Director of the NA Council of Ethnic Minorities Ksor Phuoc, and Deputy NA Chairman Uong Chu Luu, raised concerns over several problems in transport facilities and infrastructure, corruption among traffic police and an absence of public awareness.

NA Vice Chairman Huynh Ngoc Son pointed out some main causes of traffic accidents and measures to curb them. He stressed that the government should expand its supervision over "the implementation of traffic laws" regarding roads, rails, waterway and aviation.

In conclusion, NA Chairman Trong agreed with NA deputies and asked relevant agencies to review transport infrastructure projects, means of transport, traffic management and public awareness so as to work out suitable solutions. He also noted that public transport should be given a priority.