The amendment of the Law on Corporate Income Tax aims to ensure tax policy equality for businesses and create a more attractive investment environment.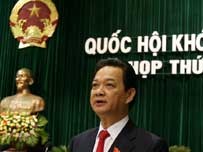 Prime Minister Nguyen Tan Dung delivers an opening speech to the National Assembly Tuesday
Finance Minister Vu Van Ninh made a presentation on the draft revised law at the on-going session of the 12 th National Assembly on the morning of May 7.
The bill outlines that the present 28 percent tax rate for businesses and organizations in the economic sector will be replaced by three preferential tax rates of 10 percent, 15 percent and 20 percent for, respectively, 15-year, 12-year and 10-year durations from business start up.
The draft law also sets out tax exemption and reduction regulations for projects that implement socio-economic policies such as applying new scientific and technological advances and employing social welfare beneficiaries as workers.
Also at the session, Minister of Industry and Trade Vu Huy Hoang delivered a report on the bill on amendments and supplements to a number of articles of the Oil and Gas Law.
The Oil and Gas Law is amended and supplemented to ensure domestic energy security and to conform with international oil and gas treaties to which Viet Nam is a party, he said.
The bill adds coal gas projects to the list of projects in need of investment encouragement and revises regulations regarding oil and gas exploration and exploitation duration, oil and gas lot and service bidding, oil and gas contract transfer and contractors' obligation to sell oil and gas in the Vietnamese market.
The amendments and supplements are considered positive moves as the oil and gas sector topped the list of economic sectors in terms of export turnover and contributions to the state budget from 2001-2007. The industry has so far attracted more than US$8 billion in foreign investment.
Earlier, legislators heard Finance Minister Vu Van Ninh's report on the draft Law on Value Added Tax (revised).
The law-makers are scheduled to work in group to discuss the draft Laws on Value Added Tax (revised) and Corporate Income Tax (revised) in the afternoon of May 7.