National Assembly members sought explanations from ministers about the proliferation of hydroelectric power projects, rice exports, and the competitiveness of domestic goods and industries at a question and answer session November 18.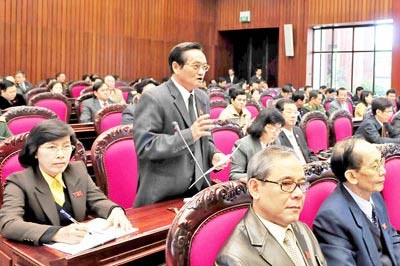 Tran Du Lich, a legislator from HCMC, questions Minister of Industry and Trade Vu Huy Hoang at a National Assembly question and answer session November 18 (Photo: SGGP)
Vo Minh Thuc of Phu Yen Province asked Minister of Industry and Trade Vu Huy Hoang several questions about planning for hydroelectric projects and the recent release of water from reservoirs during the floods in central provinces.

The nation needs to tap its hydroelectric potential to meet its electricity needs, prevent flooding, and ensure water supply, Mr. Hoang said.

All large and small hydropower projects have been carried out according to approved plans, he said.

But he admitted his ministry lacks the human resources to verify if all of these plans are being implemented.

"The Ministry has inspected only a third of the 35 provinces that have plans to build hydroelectric facilities," Mr. Hoang said.

Some issues need to be considered and tweaked since plans are not set in stone, he said, pointing out that available hydrographic figures no longer conform to existing climatic conditions.

The floods caused by the recent typhoons mean some central provinces need to reconsider the role of hydropower projects, he said, but warned that "shifting all the blame on hydroelectric facilities needs to be reconsidered as well."

When the issue of rice came up, Nguyen Thi Kha of Tra Vinh Province said rice prices in the Mekong Delta are only 53 to 83 percent of the minimum price fixed by the Vietnam Food Association.

"Is it reasonable? And how much profits do farmers get?" she said.

Mr. Hoang promised that farmers would enjoy a profit of 30 percent on their summer-autumn crop as instructed by the Prime Minister.

"Costs are so different from place to place that fixing a common minimum price might not be appropriate," he added.

Replying to concerns raised by deputy Danh Ut of Kien Giang Province that the quantity of rice exported is rising while the value is falling because there are too many exporters, Mr. Hoang said though 205 enterprises are involved in rice exports, 70 percent of the actual exports are done by just 11 major enterprises.

The country is expected to export 6-6.2 million tons this year, 30 percent higher in terms of quantity, but the turnover would be lower than last year since prices are sharply down, he said.

A new regulation that would address this imposes strict conditions on storage and price, he said.

Tran Du Lich of Ho Chi Minh City said: "Big, established electronics companies survive now by subcontracting work for marginal profits for Chinese companies."

"A leading industry is on the verge of death while we are trying to encourage Vietnamese people to use domestic goods. How is the ministry fulfilling its responsibility?" he asked.

Mr. Hoang said it is a tragic story and admitted his ministry is responsible for the shortcomings in policies and strategies for developing the industry.

Responding to questions about the immediate hikes in fuel prices but slower reductions, Mr. Hoang said the newly-issued Decree 84 on petroleum trading -- to take effect in mid-December -- would be a good mechanism to ensure petroleum retail prices follow the market.