Vietnamese legislators at an on-going session Friday agreed on a 9% economic growth rate target for 2007 but were worried about the Consumer Price Index (CPI) which has climbed over 8 percent this year.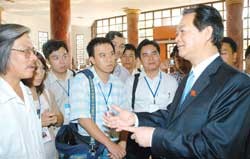 PM Nguyen Tan Dung talked to the press Friday
During the fifth day of the lawmaking National Assembly's 12th legislature's second session, many legislators suggested the government establish a central agency to be responsible for regulating macroeconomic policies regarding finance, insurance, banking, stocks, and to curb inflation rate in the short term.
They also proposed other measures including issuing bonds, reducing cash circulation, continuing to reduce import tariff especially on automobiles, which is still now much higher than the world's.
Legislator Bui Van Tinh from Hoa Binh province expressed his concern that although the government has cut import tariffs on 18 essential commodities in a recent effort to cut prices, CPI is still rising.
Gov't not to blame for escalating prices
On the sideline of this one-month session, to wrap up on November 22, Prime Minister Nguyen Tan Dung told the press that since Viet Nam is subject to market mechanism, prices are not dictated by the government but fall and rise depending on objective factors ranging from raw material prices, exchange rates, and labor productivity to production costs which the government could not all anticipate.
Meanwhile, according to minister of Planning and Investment Vo Hong Phuc, the government should strive towards an "ideal CPI of 8 percent" considering the 9 percent economic target. The CPI is now 8.12 percent and rising fast.
But he said it is difficult to fix a certain number because CPI reflects reality. Flood, bird flu and other unwanted elements could send food prices sky-high, he added.
However, the ideal CIP rate for Le Quoc Dung, vice chairman of the Assembly's Economic Committee, is less than 6 percent to ensure sustainable development when the economy is targeted to grow at 9 percent.
Mr.Le Quoc Dung told Sai Gon Giai Phong that CPI in the past four years has surged by 32 percent, i.e for the same pay, an employee now earns only VND100,000 in absolute terms against VND150,000 four years ago.
This will widen the gap between the rich and the poor, he added.
When asked why China's economy has been growing fast but the country is able curb its CPI, he said China can internally produce raw materials and other products like fertilizers and cotton while Viet Nam has to import them.
Even though the garment and construction industries are booming in Viet Nam, the country has to import cloths and steel billets, he elaborated. GDP in China has climbed 11 percent but its prices only 6 percent.
According to the Vietnamese General Statistics Office, food prices this month are nearly 16 percent higher year on year and housing and construction material prices jumped 11.72 percent.
Also another meeting in the evening the same day, deputy first Prime Minister Nguyen Sinh Hung instructed the Ministry of Finance, of Industry and other competent agencies to implement measures "so as not to let CPI rise 0.3 percent in the two remaining months of this year".
Other issues
Back to the legislature session, Nguyen Minh Thuyet, of Lang Son, complained the government has not paid much attention nor analyzed in detail the impact that interactions among many international economic relations following Viet Nam's entry into the WTO has had on the economy and society.
Ngo Xuan Quang, of Dong Thap, said even by now, nearly a year since Viet Nam joined the global trade bloc in January, the country still does not have any mechanism in place to assess the WTO impact.
Farmers are very excited about entering the bloc but they are at a loss regarding what to gain and what to lose post-WTO, he added.
Yesterday legislators discussed two bills on chemical substances and product quality.
Compared to the last bill, a new chapter on preventing and tackling chemical incidences has been added. Besides regulating chemical activities, this new draft law also governs organizations and individuals involved.
According to minister of natural resources and environment Pham Khoi Nguyen, this bill also pays great attention to the environment.
Lawmaker Dieu Dieu of Binh Phuoc suggested having all transport means carrying chemical substances marked with special signs as well as stipulating specific regulations to govern their loading and transportation.
Meanwhile, Nguyen Minh Thuyet of Lang Son wanted tighter checks on organizations which apply for, implement or ratify chemical-related projects.
Regarding the bill on product quality, Dang Vu Minh, chairman of the Assembly's Committee for Science, Technology and Environment proposed that the Ministry of Science and Technology be solely in charge of product quality.
Many deputies lauded this. Nguyen Thi Kha of Tra Vinh said currently such product quality management is being overlapped.
She took an example: Vegetable quality is all managed by the Ministry of Agriculture and Rural Development, the Ministry of Trade and the Ministry of Health.
Legislator Tran Thi Hoa Ry of Bac Lieu and Nguyen Van Luu of Ca Mau wanted the bill to punish those falsely stating or overstating their product quality on ads and packages.
The day before yesterday, the Assembly debated the personal income tax bill.