Eighteen people were killed and six others injured in a quarry collapse at the Len Co Mountain in Yen Thanh District in Nghe An Province on April 1.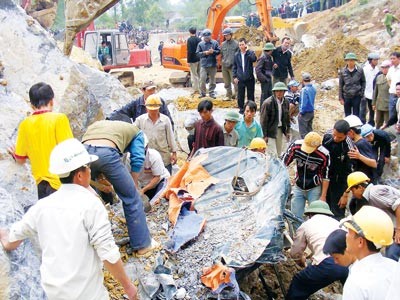 Rescuers search for victims at the site of the quarry collapse.(Photo:SGGP)
The incident occurred at 7 am at the Len Co mining site when at least 40 workers were working in the quarry.
The Nghe An Province authorities sent more than 200 soldiers and policemen along with specialized vehicles to the site to search for victims. The province also provided immediate compensation of VND5 million to families of the dead and VND3 million to each of the injured workers. By 9 pm yesterday sixteen bodies had been recovered from the debris.
While visiting the scene, Phan Dinh Trac, secretary of the Nghe An Provincial Party Committee, said that rescue teams were working round the clock to search for the remaining victims.  Even explosives were being used to remove large rocks.
An eyewitness said that after hearing a loud noise, massive rocks crashed down on the entire site burying all the workers and machinery.
Most of the victims were poor local women who had no insurance and were hired on daily wages by the Chin Men Company.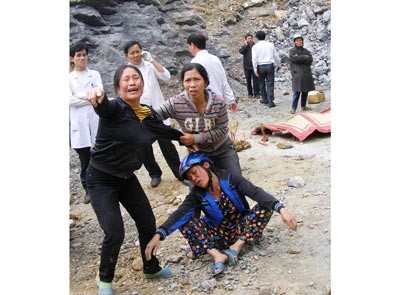 Painful scenes of families of rescued workers.(Photo:SGGP)
The police will begin investigations as to the cause of the accident after rescue efforts conclude.
Nguyen Dinh Chi, Deputy Chairman of the provincial People's Committee, said that as soon as rescue operations end, the province would set up a committee to investigate into the working conditions at Len Co Mountain.
Local residents in the neighbourhood said there had been several rockslides in the area previously, but this had not resulted in any casualties.
Chin Men Company, a local private firm, had received a licence to mine the Len Co quarry five years ago.