Sitting at the bottom of P'nom Kan mountain chain, Dak Nong Province in the Central Highlands, Tay Son village is an ethnic minority area where most citizens are poor and live a simple life, like many before them.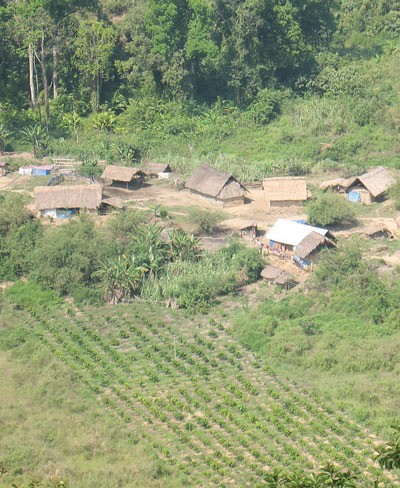 Tay Son mountain village at the foot of P'nom Kan mountain chain. (Photo: SGGP)
K'Long, a 75 year-old K'Ho man, has lived here for many years and he also is the eldest and most revered man in Tay Son.
He joined the anti-French when he was 18 years old and continued the fight when the American troops arrived.
He decided to settle down here when the wars ended. When they did finally end, he and other locals built the village and was always ready to help residents and reconcile differences among locals. Everything he does comes from his heart.
A part of Tay Son is located in Dam Rong, Lam Dong Province, and the other in neighboring Dak Nong Province, which has led to bureaucratic problems.
It is also difficult for vehicles to get in and out during the rain season. From Tay Son village to Phi Lieng Commune, Lam Dong Province, it is 20 kilometers but it takes residents over half a day to walk through forest.
Residents live close to nature, mountains and forests, rivers and streams.
From 1993, some K'Mo people resettled near Phi Lieng commune due to Son Tay isolation but some still live in the Tay Son village near the forest area.
Since 2000, many people came to the area to illegally mine gold, minerals and other ore, causing the area to excavated, with many animals leaving the region and fish dying in the polluted rivers.
Until illegal mining is under control, peace returned to forests and streams where K'Long was born.
The area has also become home to Thai, Nung and Mong people, who came here from the north and have brought their customs.
Although many ethnic groups, such as Thai, Nung, Mong came here to settle, and have different customs they still interact with other ethnic groups.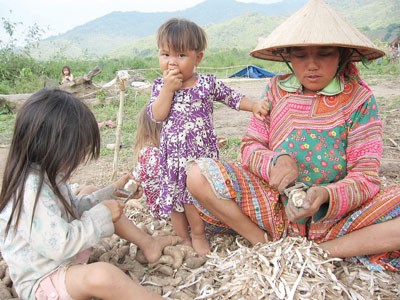 Most children are illiterate in Son Tay mountain village. (Photo: SGGP)
Most of them are poor and their life belongs to nature and they think that death comes at an appointed time.
At the village, residents face not only poverty but also sickness and harsh life conditions.
A married couple, K'Nhong and Ka Glang, said they have five children, all of them have settled down to marry but they are still poor.
K'Nhong said he thanks God for giving him bright eyes to hunt animals in the forest and catch fish in the streams.
Crossing Pot Gon slope, the Tay Son mountain village drops out of sight behind forests of tall trees, in which many children are illiterate and poverty continues.