This evening cities around the world will join the Earth Hour campaign and switch off their lights for one hour.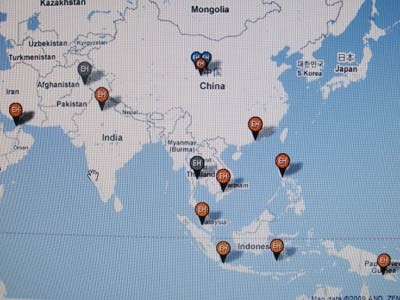 Many countries join the Earth Hour campaign on March 28
In Ho Chi Minh City, many businesses said they will switch off their lights and electrical appliances from 8:30 pm to 9:30pm.
The public lighting system, decorative lights and advertising boards at major venues in central District 1 will be turned off, such as the head office of Ho Chi Minh City People's Committee, Opera House, Uncle Ho Statue Garden, Nha Rong Station and Turtle River area.
The HCM City Natural Resources and Environment Department has also encouraged local people to register to join the program.
Twenty-five hotels, through Saigontourist, in the city will turn off their lights and use candles instead.
In Hanoi, lights will be switched off from 8 pm to 9:30 pm in many places, such as the National Conference Center, My Dinh Stadium, Economics University's student accommodation, some big hotels and hundreds of public areas.
Hanoi will also turn off the lights in entertainment areas and non-essential lights in some public areas.
Music will be performed the Hanoi Opera House under candle light at the same time and live on TV.
Essential services, like hospitals, traffic lights and security lights, will be maintained to ensure safety and security in both Hanoi and Ho Chi Minh City.
This year, the campaign has attracted more than one billion people in 1,000 cities around the world. Communities, businesses and governments are invited to switch off all lights for one hour at 8:30 pm on Saturday, March 28.
Earth Hour is a global event and aims to bring together a diverse group of peoples, governments, corporations and NGOs to heighten awareness about climate change, and inspire consumers and businesses to take practical action to reduce their own carbon footprints.