Authorities of Nha Trang City, the central coastal province of Khanh Hoa, told a November 23 press briefing that National Geographic's Traveler magazine has published incorrect information on rating Nha Trang beach, causing confusion.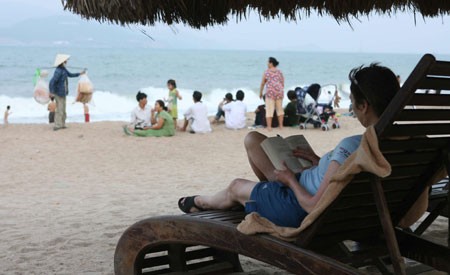 A tourist reads book on Nha Trang beach (Photo: TN)
The press briefing, which was held by the provincial People's Committee, centered on a fact that Vietnam's Nha Trang and Mui Ne have been "bottom rated" in a selection held by the US-based magazine.

Nha Trang offcials said it is irrational when the magazine coupled Nha Trang with Mui Ne. The two beaches have different characteristics, so the selection shouldn't have been made based on common features.

They also blamed some domestic newspapers for telling the news incorrectly as they said "Nha Trang is one of the worst beaches" [while the magazine said "bottom-rated"]

The local authorities said they have tried to make Nha Trang more beautiful and cleaner, and their efforts have showed effective as Nha Trang has attracted tourists.

They admitted that in the urbanization process, the city has to solve many problems relating to pollution, ocean preservation, and service quality.

Heads of the province's related departments and agencies said they will suggest stopping leasing lands where facilities blocking access to the beach are built on after the lease periods end if the facilities' owners don't make amendments.
The country's experts and officials have also reacted with alarm to the magazine's listing.
In its November-December issue, the National Geographic Traveler announced its seventh annual "places rated" list of 99 beaches evaluated by a panel of 340 well-traveled experts in many aspects including preservation of history, sustainable tourism, ecology, geography, site management and indigenous cultures.
The beaches were evaluated based on six criteria: environmental and ecological quality, social and cultural integrity; condition of historic buildings and archaeological sites; aesthetic appeal; quality of tourism management; and outlook for the future.
They were categorized in six levels: "top rated", "doing well", "in the balance", "facing trouble", "bottom rated", and "near catastrophic".
The Nha Trang beach in Khanh Hoa Province and Mui Ne beach in Binh Thuan Province both scored 43 and listed in the "bottom rated" category.
Both are located in the south-central region and Nha Trang Bay is a member of the World's Most Beautiful Bays Club.