On November 16, the Ministry of Information and Communications will hold a meeting to discuss problems arising from the implementation of regulations, issued by the government a year ago, for the management of services provided by cable TV companies.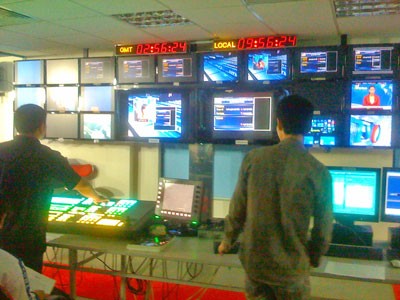 New regulations on cable TV distribution brought in many problems in the last one year (Photo: SGGP)
Cable TV was introduced nearly 20 years ago but has only become more popular in the last five years, with more public awareness and demand.
At present, there are more than 56 cable TV distributors in the country who are all vying for customers, and instead of working in cooperation are constantly competing with each other.
This unhealthy business atmosphere has been detrimental for the chance to bring in more foreign programs or raising revenues.
For instance, the local TV stations have been paying eight-figure sums to acquire rights to broadcast the English Premier League in the country every year, something which could have been be avoided if cable distributers worked together as one body rather than a bunch of scattered individuals.
Accordingly, on April 23, 2011, the Vietnam Pay Cable Television Association was established to resolve such problems arising between domestic distributers.
Currently, there are 75 foreign channels being broadcast in the country, yet only a few provide entertainment, international news, films and sports programs that are of viewers' interest. It can be said that audiences are overwhelmed with foreign channels or that surplus supply led to customers' turning back. 
The Vietnam Pay Cable Television Association also wants foreign channel programs rated 15, which are popular among viewers.
As per the decision by the Vietnam Pay Cable Television Association, all programs of all foreign channels must have Vietnamese translation or else they will not be allowed to be broadcast in the country. This regulation might certainly turn away many foreign channels who find it difficult to meet this demand.
This rule can also lead to a monopoly, as only a few distributers are able to fulfill this requirement and broadcast foreign channels.