Local enterprises will face challenges in exporting rice in 2011. This is because Vietnam has opened up its rice markets to foreign-owned traders under its commitments to the World Trade Organization (WTO), said Truong Thanh Phong, chairperson of the Vietnam Food Administration (VFA).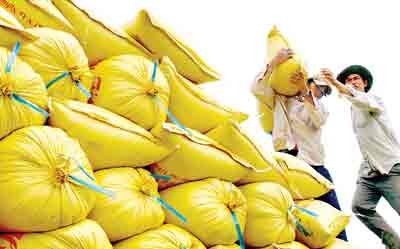 Farmers in the Mekong delta province of Soc Trang transport rice bags after they harvest the crop (Photo: SGGP)
Mr. Phong told members at a meeting, held by the VFA regarding rice exports for 2011. The meeting was held in Da Nang on January 10.
Mr. Phong said under the schedule commitments made with the WTO, Vietnam has now opened its rice markets to foreign companies and they can participate directly in sales and exports, rather than before with only venture companies.
Moreover, foreign-owed exporters have enormous amounts of capital and very stable markets. In addition, they enjoy business loans on interest rates at only 4.5 percent per year. In contrast, Vietnamese companies pay 16.5 percent interest on business loans each year.
With this situation, many Vietnamese businesses will export to partners or become providers to partners. Some firms may even go into bankruptcy. Furthermore, home enterprises will have to satisfy requirements that they must have over 5,000-ton capacity warehouse and a 10-ton per hour grinders. These governmental regulations has plunged local rice exporters into severe difficulty.
In 2010, 264 enterprises were involved in exporting rice, but in reality only 30 companies exported rice. Thus, competition in the rice export market is very competitive and fierce.
Speaking at the meeting, Deputy Industry and Trade Minister Nguyen Thanh Bien expressed his appreciation for domestic suppliers of rice to world markets. Vietnam exported 6.828 million tons of rice in 2010, which yielded a turnover of US$3.212 billion, a 30.6 percent increase over the same period from last year. Mr. Bien said VFA needs to continue trying to connect enterprises, traders and farmers together in joint exercises.
Nguyen Van Tien, director of An Giang Import – Export Company (Angimex), said businesses should supply good quality rice seeds, fertilizers and insect pesticides to farmers, and to purchase rice at higher prices. Moreover, enterprises should spend more capital on the latest technology, improving warehouse and storage facilities, and developing more brand names.