Deputy Prime Minister Truong Hoa Binh has emphasized at an online meeting on March 16 that local leaders must be responsible in securing the traffic safety and there will be a law to charge local administrators if accidents occur in the area.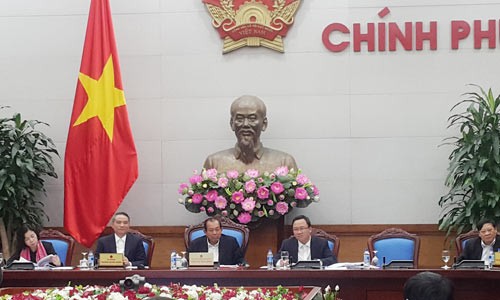 The online meeting (Photo: SGGP)
A report by the National Traffic Safety said that the country has seen 3,465 traffic accidents killing 1,570 people and injuring 2,660 others in the first two months of 2017.

Worse, since the beginning of the year, the country has had 21 severe traffic accidents killing 51 people and injuring 92 others. Of them, 17 are road accidents; two are railway accidents and 2 are river accidents. The Committee said the number of river accidents increased by 83,33 percent.

In February and March, there were 19 serious road and railway accidents killing 45 passengers and injuring 72 others. For instance the Hanoi-Ho Chi Minh City railway accidents and three accidents in Quang Ninh, Hanoi and Lao Cai in the North killed four people and injured 55 people.

Traffic inspectors handled 18,000 inspections, issuing fines to nearly 14,000 violations with total fines of VND39.6 billion; keeping 36 cars; suspend the operation of 70 boats. While traffic wardens conducted inspection across the country, they made reports of 700,000 violations collecting over VND400 billion and seizing over 5,000 cars and nearly 100,000 motorbikes. Additionally, 60,000 driving licenses were revoked.

The Committee said that traffic accidents still rose because there has been no regulation stipulating the leaders' responsibility and traffic police who are in duty to keep traffic safety. Moreover, some traffic police officers committed corruption to tolerate violations. 

Additionally, definitely unsolved accident hotspots, many people's low awareness of traffic regulation and increased vehicles and limited control of traffic all contribute to accidents.

The Deputy PM lauded Hanoi and Ho Chi Minh City in the campaign on widely-acclaimed sidewalk clearing to return the walking space to pedestrians, asserting that the campaign should be continuosly carried out to keep pavement order. He expected that the administrators of the two cities to re-arrange place for street vendors to sell their food.

He said that though HCMC reduce the number of traffic accidents, traffic congestion takes place often, hence, it should have resolve for the matter.