At the Government's regular meeting presided over by Prime Minister Nguyen Tan Dung on January 30 and 31, the general report by the Ministry of Planning and Investment showed good results of the production and trading activities and preparations for Tet (lunar New Year) holidays.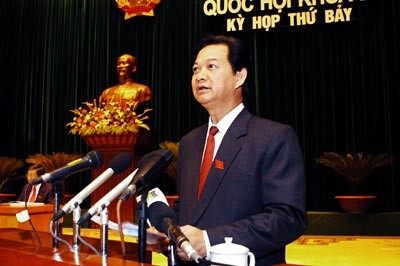 PM Nguyen Tan Dung
The industrial production value for January 2007 was VND 46,155 billion, increasing 26% year on year.
Most of the major products have achieved high growth rates as compared with the same period last year: coal up 35%, natural gas 48.7%, processed aquatic products 29.9%, automobiles up 40%, motorbikes 32.7%, and electricity 22.7%.
Regarding poultry farming, despite the outbreaks of bird flu in some provinces, local authorities have mafe great efforts in taking care of the poultry to ensure the poultry demands for Tet.
In January, the number of foreign tourists was estimated at 369,000, a 9.5% year-on-year rise. The export turnover kept growing with USD 3.3 billion, up 7.7% over last Jan.
Also in January, there was a 2% increase in the total capital of licensed projects, reaching an estimated US$350 million. Noticeably, the consumer price index in January rose to 1.05% over December 2006.
According to the Ministry of Planning and Investment, preparations for Tet holidays have been basically completed. Those companies that produce commodities for Tet such as clothes, candies and cookies, jam, household appliances … have been storing a large stock to meet high demands for Tet.
Therefore, even though there is a slight increase in prices, the phenomenon of 'price fever' or running out of stock is unlikely to happen. Yet, prices of such products as liquors, beers, soft drinks and fresh meat are on the increase.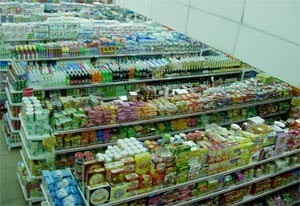 HCMC's commodities for Tet have been kept stable in terms of supply and price.  (Photo:KK)
Big cities such as Ha Noi or HCMC have prepared well for Tet holidays.
To meet a high demand of the city residents during Tet, the City People's Committee of Ha Noi has directed relevant departments to prepare stocks of 20-21 thousand tons of rice, 38-40 thousand tons of vegetables, 1,500 tons of cookies and candies, 1.8 mil cartons of beer and soft drinks and 1,800 – 2,000 tons of beef …
HCMC's market is even busier. Trading activities for Tet holidays began from mid-December. However, thanks to good preparations, the commodity market in HCMC has been kept stable in terms of supply and price. The city has prepared stocks of 35 thousand tons of rice, 45 thousand tons of vegetables and 18-20 thousand tons of sugar …
Prime Minister Nguyen Tan Dung has asked members of the Government to pay special attention to three key tasks in 2007: to develop a rapid and sustaibable economy, to boost administrative reforms and to fight against corruption.
Mr. Dung again reminded the Ministries of Security, Planning and Investment, Natural Resources and Environment, Construction, and Justice of checking and amending documents to shorten time and reduce the burdens in granting certificates of lan use rights, investment licenses and construction permits.
The Prime Minister also demanded that the Ministry of Security consider issuing passports to citizens at ward or commune instead at provincial levels with high fees and long-lasting as present.