Authorities in the central province of Quang Ngai have asked the police to stop local people from pilfering antiques from the shipwreck that was discovered in Binh Son District.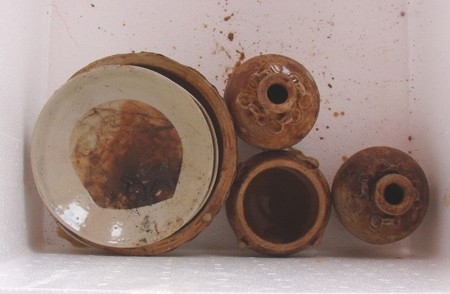 Antiques found in the previous shipwreck in waters off Binh Chau
Some fishermen on August 19 discovered an ancient shipwreck filled with ceramic antiques dating back to the 17th century in the coastal commune of Binh Chau in Binh Son District in Quang Ngai Province. 
As the location of the shipwreck was only 50m from the coast, hundreds of locals dived into the sea to plunder antiques off the ship.
After receiving a tip-off, the provincial People's Committee ordered the police to prevent people from taking away priceless antiques and the Doan Anh Duong Company was asked to make a pilot study of the ship.
Initially, the company's divers confirmed existence of some artifacts in the waters of Binh Chau Commune but could not verify if they were indeed from the shipwreck.
The People's Committee wanted to know the location of the ship so as to prevent further plundering and plan excavation of the sunken vessel, which task must be done before the onset of the rainy season.
Dr. Doan Ngoc Khoi, Deputy Director of Quang Ngai Museum, said authorities in Quang Ngai Province in 2009 had excavated an ancient shipwreck dating back to the 17th century at the same location that fishermen found the present sunken ship.
Hence, there is a possibility that there are more shipwrecks in this area, as since 1998 four ships have been found in the same location, said Khoi.