The Mekong Delta province of Long An should make all-out efforts to become one of the three economic centres in the southern region, together with Ho Chi Minh City and Can Tho city, Prime Minister Nguyen Xuan Phuc said.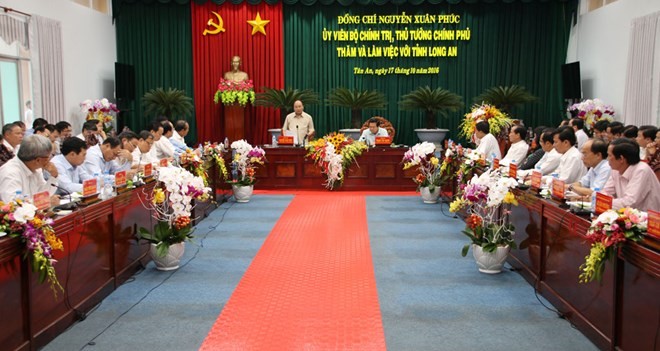 Prime Minister Nguyen Xuan Phuc speaks at a working session with Long An leaders (Soruce: baolongan.vn)
At a working session with the provincial leaders on October 17, the PM highlighted the rapid and effective economic shifting in Long An which now houses 7,900 businesses.
Long An should set up a special group to accelerate economic shifting in the locality, he suggested.
PM Nguyen Xuan Phuc said he was satisfied with Long An's development achievements and orientations, especially in new-style rural area building, urging the province to complete the rural construction programme before 2020.
It is necessary for the province to mobilise all resources in order to turn Long An International Seaport into a central port of Mekong Delta, he said, calling on the locality to pair economic development with environmental protection and social order and safety maintenance.
Regarding smuggling, especially tobacco smuggling in the province, the PM called for the involvement of the entire political system in the combat.
Sharing a 133-km border line with Cambodia, Long An has favourable conditions for economic development, with annual economic growth at 11.26 percent over the past five years and GDP per capita at 50.7 million VND (2,281 USD).
As from October 16, the province has put into service a public administrative service centre which deals with administrative procedures of the six departments of Planning and Investment, Natural Resources and Environment, Construction, Industry and Trade, Justice, and Science and Technology.
While in Long An, PM Nguyen Xuan Phuc made a field-trip to the construction site of Long An International Seaport in Tan Lap commune, Can Giuoc district.
Covering 147 hectares, the 9 trillion VND (405 million USD) port is scheduled to be operational in 2023.
He also toured the Five Star Eco City project invested by Five Star International Group and visited local heroic mothers.