Generator 1 of Ca Mau Province's power plant No.1 will access the national grid today having already missed the March 24 deadline, said the project management board's deputy director Pham Thanh Tri.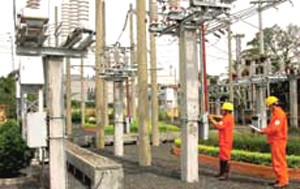 Ca Mau Power Plant No.1 accesses the national grid today
Technical adjustments needed to make the generator operate at its best were apparently the cause of the delay.
 
Vietsopetro Company, an oil and gas joint venture between Viet Nam and Russia, is also working at optimum speed to ensure that by April 7 they will be supplying gas to the Ca Mau Power Plant No.1, said Mr. Tri
 
With the country currently suffering from power shortages, the 230MW capacity of Ca Mau Power Plant will be very significant for the national grid.
Related articles:
Ca Mau Electricity Plant I to Connect National Electric Grid
Ca Mau 1 Power Plant to be Commissioned March 24