Deputy Prime Minister Hoang Trung Hai instructed to supplement Long Thanh International Airport project into the list of national key projects in Hanoi on Thursday.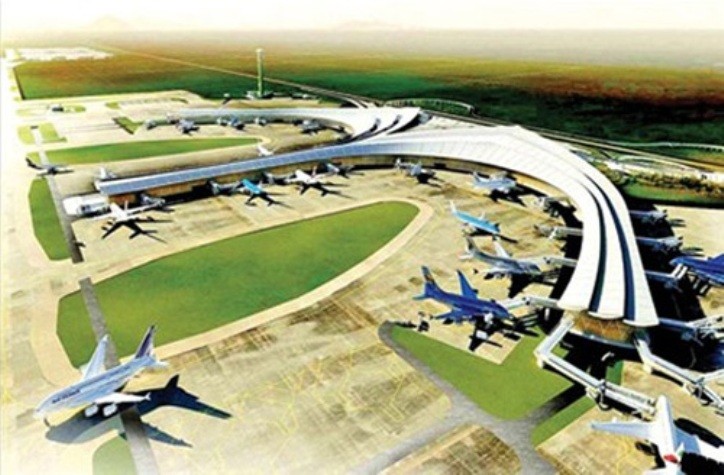 An artists' impression of Long Thanh International Aiprort
The instruction was made at a meeting with the Central Steering Committee on Key Transport Projects.
 
Mr. Hai ordered the Ministry of Transport to exactly conduct pre-feasibility and feasibility reports from the outset of the Long Thanh Airport because it is a large-scale project and under Public Private Partnership (PPP) form.
 
The ministry should continue instructing relevant sides to well comply with legal documents related to the Traffic Law and regularly inspect, supervise and urge investors and contractors to ensure the work's progress and quality.
 
The Ministry of Transport reported it have 35 national key projects with total capital approximating VND724,939 billion (US$32.26 billion).
 
Of these are 22 road projects with VND477,712 billion with a total length of over 5,300 kilometers, eight have been opened to traffic.
 
Railway industry has seven projects over VND344 kilometers with a total capital of VND186,298 billion.
 
Marine and waterway industries have four projects, costing totally VND43,503 billion. Airway has two projects including Phu Quoc Airport and T2 international terminal at Noi Bai Airport, Hanoi with the total capital of VND17,427 billion.
 
On the same day, the Ministry of Transport said that Minister Dinh La Thang had approved changes in the detailed plan of Tan Son Nhat International Airport, Ho Chi Minh City by 2020 with visions until 2030.
 
According to the plan, Tan Son Nhat Airport will meet level 4E by the International Civil Aviation Organization (ICAO) with capacity reaching 25 million passengers and one million tons of cargo a year.
 
The airport will have 82 aprons comprising 54 areas for civil aviation and 28 others for multirole aeronautics, which can accommodate the most modern aircrafts such as B747, B777, B787, A350 and A321.
 
Parking lots in front of Tan Son Nhat international and domestic terminals will be developed into multi-storey parking lots directly connecting with ways in and out the airport.
 
Main roads to reach the airport will comprise Truong Son and Tan Son Nhat-Binh Loi having six lanes each.
 
Tan Son Nhat Airport has been overloaded with a capacity of 20 million passengers a year and 40 aprons now.