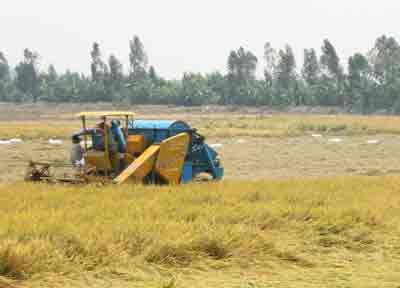 Farmers are working on rice field (Photo: SGGP)
For over 22 years, the red alum soil of Long Xuyen Quadrangle was covered with cajuput trees and tall weeds, before the administration decided to turn this wild land into a rice basket in the region.
The Long Xuyen Quadrangle includes vast areas of Thoai Son, Chau Thanh, Tri Ton, Tinh Bien, Hon Dat and Kien Luong of the Mekong delta provinces of An Giang and Kien Giang.  Two province governments annually supplied food to residents there, who suffered from famine.
The government of An Giang province then made a sensible decision to convert this wasteland into a rice basket for the country and help farmers in the quadrangle area.
There were many discussions and doubts between home and foreign experts on the decision because the old government during the French rule and before 1975 had tried to improve the alum land but had failed.
When the land clearance started, An Giang verified key problems to solve including land reform and ownership disputes between new and old landowners.  However, farmers still faced losses from their initial first two crops due to alum soil not being suitable for planting rice and from various crop diseases and rodents. 
Determined to implement and see the program to the end, former An Giang People's Committee Chairman Nguyen Minh Nhi, chief of the program, traveled to Dong Thap Muoi (Plain of Reeds) to learn their former successful methodologies to convert alum soil into normal cultivable land.
The government adopted their practices and dug many canals to drain out alum water. They also provided land, capital and technology to farmers. Finally, they were successful and productivity increased each year. The land is now covered with a rich winter-spring rice crop in districts Thoai Son, Chau Thanh, Tri Ton, Tinh Bien, Hon Dat and Kien Luong. Farmers are run off their feet working on rice fields with some help of machines. Traders purchase rice directly from the fields to sell to exporters.
Farmers eager to harvest their crop(Photo: SGGP)
The face of the province has also changed. More concrete houses and roads have been constructed. Farmer Nguyen Thi Han who has worked in rice fields all her life said their dreams have come true. District Thoai Son People's Committee deputy Chairman Doan Minh Triet said Thoai Son, the first district to start the clearance program, is leading in productivity as well as quality.
The Long Xuyen Quadrangle has become one of the two main districts to produce rice, the other being Dong Thap Muoi (Plain of Reeds) in the Mekong delta. Farmers grow two or three crops a year thanks to a sophisticated irrigation system and technology applied for growing rice.
The Vo Van Kiet canal, named after a leader of the country, has breathed new life into this undeveloped land. Hundreds of poor households have escaped poverty as a result.
Farmer Tran Van Thanh, 57, said he nets around VND200 million (nearly US$10,000) a year on his 6 hectares of rice, harvesting two crops. He says that he can now look after his children and construct a new house. Thanh revealed when if the Vo Van Kiet canal had not been built, he would have gone to another area because life was a struggle here, but now he would not leave this land even the government expelled him.