Farmers in Long Xuyen Quadrangle have turned this wasteland into lush crop yielding fields by sheer will power and hard work.
Many of these farmers have now become millionaires.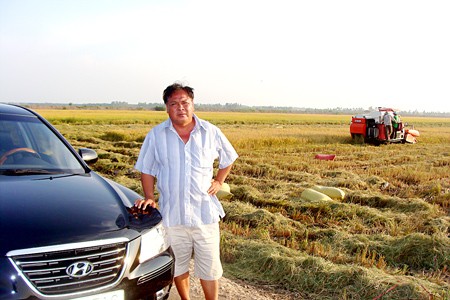 Dang Van Hien, a Vietnamese millionaire visits his fields by car.(Photo:SGGP)
Sai Gon Giai Phong had a chance to see first hand this successful model of prosperity that overcame all odds to become a flourishing rice basket of Vietnam.
In 2003, the Binh Giang Commune Farmers' Association mobilized people to set up a club to encourage people to apply more modern and new technology methods in agriculture to improve production.
The club initially had seven members, mainly young people. They planted rice on land belonging to a pagoda. By applying new technology, they were able to increase their winter-spring rice productivity from 5 tons per hectare to 6.5 tons per hectare. Some years later, the club members increased to 29.
In 2009, the club members decided to establish a co-operative with a capital of VND1billion (US$50,000) and 22 shareholders.
By the end of 2010, the co-operative invested VND2.3billion ($115,000) and showed profits of VND830million ($41,500). Members of the co-operative also bought 110 hectares of agricultural land worth VND5.4billion ($270,000). Over time, the land will increase in value.
According to the co-operative, it wants to create jobs to help young people escape poverty. To date, the poorest member owns 1 hectare of rice field.