The Ton Duc Thang Prize will be awarded on Aug. 14 to celebrate late President Ton Duc Thang's 120th birthday anniversary, according to the organizing board.  There are 14 applicants under consideration.  Sai Gon Giai Phong reporters met with workers who received awards at previous ceremonies.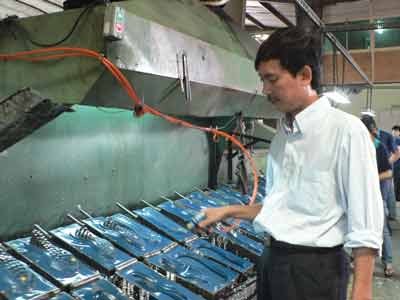 Mr. Bui Van Mien
Mr. Bui Van Mien, one of winners for the prize, is a man who refuses to talk about himself, said Mr. Nguyen Binh, president of trade union of the Minh Dieu Ltd, Company.
Mr. Mien comes from the northern province of Hung Yen. In 1979, he joined the army and later worked for Plastic Hung Yen factory.
As one of five excellent workers, he was sent to Russia for training. There he learnt how to manage industrial time and how to operate machines from the host country's experts. This paved the way for his later inventions.
He worked for the Minh Dieu Company since its establishment in 1997 even in its difficult periods.  In 2003, he had a project to improve the procedure for spaying silicon.
He later invented an automatic spraying system and replaced equipments that the company would otherwise have to import. Due to this invention, the company saved nearly VND500 million (US$30,000).
Mr. Mien's priority in making a machine is to protect workers' health. For example, he thought of ways to improve the procedure for silicon spraying so that workers would not touch and inhale the dangerous chemical element.

He said that he started working from scratch and that his inventions are his responsibility and duty to the company.