The summer-autumn rice crop in the Mekong Delta will enter peak harvest in July and August, but an abundant rice supply in the world will lower demand of this present crop.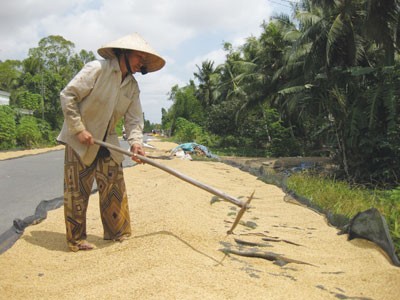 A farmer dries summer-autumn rice in the Mekong Delta (Photo: SGGP)
According to Truong Thanh Phong, chairman of Vietnam Food Association (VFA) cum director of Vietnam Southern Food Corporation, in several meetings with local authorities since late last year, VFA has notified that the abundant rice supply in the world will lower demand for summer-autumn rice this year.
Earlier, the Ministry of Agriculture and Rural Development had advised provinces not to produce spring-summer crop, which was harvested in end May.
Adding to the low demand is the quality of summer-autumn rice, which is usually not good at the beginning of the crop due to scorching weather, salt intrusion and water shortage.
Rainstorms recently flattened large areas of almost ready to harvest summer-autumn rice and worsen rice quality.
The rice quality is expected to be better in peak harvest time in July and August thanks to more advantageous weather conditions. 
Although supply is exceeding demand in the world market, the number of export contracts which domestic businesses have signed in June is 13 percent higher than the same period last year.
The Government on June 4 instructed VFA and local authorities to purchase summer-autumn rice for stockpiling. The move has immediately helped increase the price by VND100-200 a kilogram.
VFA has also agreed to reduce the rice export price a little to boost export. African markets have only bought Vietnamese rice when the price is lower than that of India and Pakistan.
This is partly due to costly transport fee from Vietnam to Africa, which is about US$65-70 a ton. The rate is only $15-35 a ton to India or Pakistan.
Two markets consuming the most rice in the world now are China with three million tons and Africa with 6.4-6.5 million tons a year.
The Government rice stockpiling program and the reduction in export prices are expected to keep domestic rice price stable until the end of July, when the world rice trade is likely surge.