The Ministry of Agriculture and Rural Development has implemented an agricultural restructuring project for the last two years, having converted 78,375 hectares of low yield rice into higher value crops in the Mekong Delta.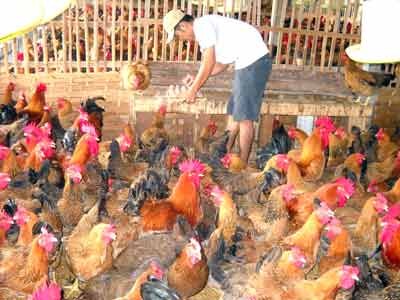 Breeders have been affected by high feed prices (Photo: SGGP)
The project has been carried out becuase rice area has been increasing causing output redundancy. The grain supply has been on the rise while import demand has recently reduced in some nations.
Dr. Dang Kim Khoi, director of the Center for Agricultural Policy, said that rice production had faced competition from emerging markets such as Cambodia and Myanmar, which have boosted rice exports to China--Vietnam's largest market.
Myanmar has made moves towards attracting investment in agricultural field while Cambodian rice quality has been appreciated in the world.
Therefore, Mr. Khoi predicted that these two nations will become rivals of Vietnam in the future beside traditional competitor Thailand.
Meantime, the rice import demand of China, Singapore and the Philippines has significantly reduced.
Vietnam's rice export profit has moved down with high export volume and low value, which has concerned farmers in the Mekong Delta every harvest season.
Experts said that was because Vietnam had long been loyal to rice farming resulting in output increase and redundancy.
Previously, the country's rice output swung from 37-38 million tons a year. Science and technology advance applications and new high-quality varieties have hiked the output to 45-47 million tons, causing supply exceed demand.
The Ministry of Agriculture and Rural Development's restructuring project has converted 78,375 hectares of low yield rice into higher value crops in the Mekong Delta, where produces 50 percent of Vietnam's output.
The change has brought high economic effectiveness thanks to higher prices of new crop products such as vegetables and maize, compared to rice, the ministry said.
Crop rotation will help reduce diseases and insects for rice crops afterwards. Maize and vegetable cultivation has also increased material source for livestock feed production which has depended on imports, it added.
According to plan, the Mekong Delta will change another 87 hectares of ineffective rice fields into vegetable, maize and fruit crops this year. It is expected that the total shifted area will reach 700,000-800,000 hectares by 2020.
The Ministry has proposed the Government to assist farmers with VND2 million (US$92) a hectare to buy new seedlings to replace 112,000 hectares of rice in the Mekong Delta.
It has also suggested the Government to expand financial assistance to northern and central regions and the Central Highlands to switch low yield rice into other crops from now until 2020.

Related article:
Rice farming reduction to make room for livestock feed materials, experts