Interest-free loans totaling VND700 million were presented to children from 60 low-income families in the central province of Binh Dinh Sunday as part of a program designed to support poor farmers in three provinces.
Representatives of animal feed manufacturer Green Feed Vietnam, the program's financing organization, and Tuoi Tre Newspaper handed the loans to the farmers, who come from Hoai An and Tuy Phuoc districts.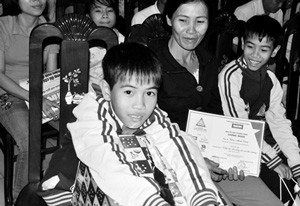 Farmers and their children receive loans and funding from the program in Binh Dinh Province on April 24, 2011 (Photo: Tuoi Tre)
A total of VND750 million was set aside for Binh Dinh, including loans of VND700 million and in-kind support.
"We expect the program to bring an opportunity to the local residents to escape poverty and gradually gain a stable life, ensure schooling for the children so that their hometown can get talents in the future," Tuoi Tre deputy editor in chief Vu Van Binh was quoted by the newspaper as saying during the loan presentation ceremony, held in the province.
Binh Dinh People's Committee Vice Chairman Mai Thanh Thang was quoted, "Funded farmers receive not only the loans from the program but also strong spiritual encouragement."
The support program has VND2.1 billion (more than US$100,000) in loans for the three provinces – Long An in the south, Binh Dinh in the central region and Hung Yen in the north. VND700 million in loans was presented to 60 farmer households in Long An last December.
Under the program, funding company Green Feed Vietnam also supports farmers by giving advice of livestock techniques and skills.
The company is based in Long An Province.