Fake gas cylinders are like bombs waiting to explode, but despite this threat tens of thousands of these are circulating in Ho Chi Minh City since the beginning of the year, according to the Market Management Bureau.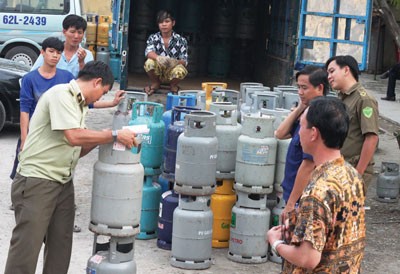 Market authorities seize fake gas cylinders (Photo: SGGP)
Regardless of some recent fatal explosions caused by old, poor quality, and illegally filled mini gas cylinders, the trade of these cylinders still continues.
For instance, a terrible explosion occurred in a couple's rented house in the southern province of Binh Duong from a burst mini gas cylinder in April 2013, causing both husband and wife to suffer serious burns.
Another gas explosion flattened a two storey house in Hanoi in late 2011, killing two children.
Fake cylinders are made by fraudsters who attach famous brand names on old cylinders and sell them to unsuspecting customers. As a result, gas cylinders of dubious origin that are circulating in the market give tough competition to genuine products.
Fraudsters are converting unsafe cylinders into well-known brand names. Some enterprises said that half the cylinders currently circulating in the market are fake, which are proving to be a huge loss for genuine businesses.
Gas company representatives said purchasing power increases by 20 percent when market authorities tighten control of fake cylinders and decreases by 15 percent when responsible agencies maintain a lax attitude.