Inhabitants of Ly Son Island in the central province of Quang Ngai have long awaited an efficient and steady supply of electricity.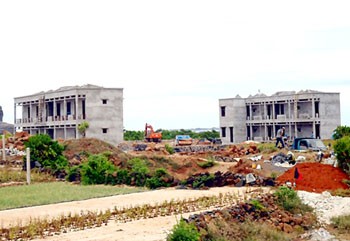 Ly Son thermal power plant under construction for the last two years (Photo: SGGP)
Tran Phuc Sinh, head of the Education and Training Department in Ly Son District says without a proper electric supply, students on the island cannot learn on the computer or access the internet.
Phan Dinh Tuan, owner of an internet shop in An Vinh Commune laments he has to spend huge amounts on diesel to operate the 11 computers in his shop.
Since 2009, the district was provided power to its 22,000 residents through diesel-run generators in its three communes of An Vinh, An Hai and An Binh.
The generators have a total capacity of 1.5MW, just enough to provide power to two communes at a time. Each commune receives power for six hours every alternate day, from 5pm to 10pm. When one commune has power, the other faces a blackout!
The Government had asked the Coal and Minerals Company (Vinacomin) to construct a 6MW thermal power plant at a cost of VND237 billion (US$11 million) in 2009. The plant would generate about 3 million KWH of power for residents on the island.
The plant construction work did begin in 2009 with plans to generate electricity by the second quarter of this year. However, after two years the plant is still not operational.
Tran Ngoc Nguyen, chairman of the People's Committee of Ly Son Island said that the delay was because of land clearance of the site, building of a dyke to hold back waves and various other minor hurdles. Nguyen believes that site for the project is not suitable for the plant as several households in the vicinity might be affected by the coal dust when the plant operates.
Another reason for the delay is that Vinacomin and Vietnam Electricity have not yet determined the power price, Nguyen added.
Vo Xuan Huyen, secretary of the Party committee in Ly Son District said that two wind power projects were also planned for Ly Son Island but again were stalled as the investors and Vietnam Electricity could not agree on a power price.