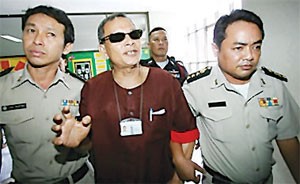 Ly Tong is escorted back to the jail after the Court
A Thai court has ruled that Ly Tong, 60, a U.S. citizen and a former South Vietnam fighter pilot be extradited to Viet Nam.
Ly Tong hijacked a plane in Thailand during former U.S. President Bill Clinton's visit to Vietnam in November 2000 to fly to the country to drop 50,000 anti-government pamphlets over Ho Chi Minh City.
Tong was arrested after landing back in Thailand and he was later sentenced to five years in prison for violating Thai airspace.
The Vietnamese government sent Thailand a request for extradition of Tong on December 2004, charging Ly Tong with slandering the Vietnamese government and endangering its national security.
The Vietnamese government has 3 months to complete the extradition procedures, according to Thailand Court.
At a regular press briefing yesterday, a spokesman for Vietnam's foreign ministry, Le Dung, welcomed the decision.
Related article:

Thai Court to Consider Extraditing Ly Tong to Viet Nam for Trial