The Ministry of Agriculture and Rural Development has said that maize cultivation on low yield rice land would not only reduce dependence on livestock feed material imports but also adapt increasingly severe drought due to climate change.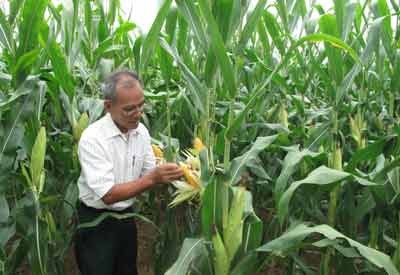 Tests by the Ministry of Agriculture and Rural Development have proved transgenic maize cultivation safe in Buon Ma Thuot city and Phu Tho province (Photo: SGGP)
According to Minister Cao Duc Phat, the Prime Minister has approved a project to convert 700,000-800,000 hectares of low efficiency rice land into other crops with higher value in the Mekong Delta. Of these, 200,000 hectares have been planned for maize planting.
The project aims to develop material sources for livestock feed production which has greatly depended on imports.
Main proteins for feed production are available in maize and soybean. However Vietnam has produced only 160,000 tons of soybeans every year.
Last year, the country had to import about 4.7 million tons of maize, 150,000 tons of the bean, four million tons of oil-cake and hundreds of thousands of fish paste and fish bone powder to make livestock feed. Livestock feed and material imports average 10-11 million tons annually.
Minister Cao Duc Phat said that soybean was not an advantage of Vietnam because locally produced bean prices were uncompetitive compared to import items.
Vietnam is completely able to speed up maize cultivation to increase domestic feed output and lessen dependence on imports, he added.
Sharing the same view, chairman of Vietnam Animal Feed Association Le Ba Lich said that soybean cultivation would be a failure.
He said that maize and soybean faming areas had drastically fallen for the last couple of years. It dropped by nearly 30,000 hectares to 580,000 hectares with a total output of 2.5 million tons in the last winter spring crop.
Vietnam had focused on protecting rice farming area and did not permit convert low yield land into other crops for many years in the past, he explained reason for the issue.
The Ministry of Agriculture and Rural Development has worked with provinces to promote maize production.
Mr. Phat said that the matter was how to reduce production costs, which can be obtained by increasing maize productivity by applying advanced technologies and planting new varieties, especially maize hybrids and genetically modified varieties.
Vietnam's maize output has reached only 4.4 tons per hectare, lower than rice output. Calculations shows that the output and price must hit a minimum of six tons a hectare and VND5,000 a kilogram to ensure farmers' profit.
The genetically modified maize might raise the output of 8-12 tons a hectare to make up the shortfall of local material source, he said.
The ministry has conducted many tests on the transgenic maize for the last five years and concluded that it is biologically and ecologically safe, said Mr. Phat.
Twenty five nations in the world have planted the transgenic maize and produced 30 percent of the world output, he added.
The ministry has permitted large-scale cultivation of three transgenic maize varieties since April, which is expected to give the first harvest in August.
Test results would continue to be estimated before permitting cultivation of other transgenic varieties in Vietnam.
Besides creating livestock feed materials, maize cultivation will help ease climate change impacts, which have caused drought and irrigation water shortage to plague wet rice cultivation, according to the Ministry of Agriculture and Rural Development.
The recent long-lasting drought caused 50,000 rice areas uncultivable in the central region.

Related articles:
Low yield rice converted into higher value crops in Mekong Delta
Rice farming reduction to make room for livestock feed materials, experts