Prime Minister Nguyen Xuan Phuc yesterday advised Kien Giang Province to develop Phu Quoc Island into a unique, world-class tourism and resort centre.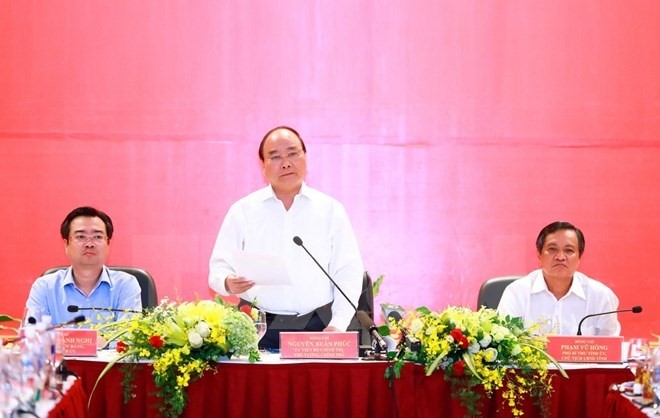 Prime Minister Nguyen Xuan Phuc delivers speech at working session with provincial officials of Kien Giang Province. (Photo: VNA/VNS)
This would generate growth momentum for the province as a whole, he said.
The island should become a leading model among three special administrative economic zones in the country, the PM said.
During a working session with provincial officials, Phúc described Kiên Giang as a "miniature Viet Nam" with an important position not only in economic growth, but also in ensuring national defence, security, and external relations.
Speaking highly of the province's socio-economic development over the past several years, he noted that the living standard of locals had improved continually.
He said the province had done well to develop its marine economy, agricultural production and tourism, while maintaining a sustainable development orientation, he said.
Mr. Phuc said Kien Giang must strive to become a wealthy province based on its natural advantages. It should apply technological advances to tourism, agriculture and aquaculture, as well as supporting and processing industries, he said.
Phu Quoc Island should be developed into a "precious, big pearl," attracting more investors and providing fresh momentum for the province's development, he said.
He asked provincial authorities to develop breakthrough policies and mechanisms, especially provisions in the Law on Special Administrative Economic Zones, to boost the local economy and ensure residents' livelihoods.
He said Kien Giang should complete development plans for Phu Quoc with vision extending to 30 and 50 years, ensuring all steps to maintain the quality of its natural environment.
It should build modern tourism facilities, diversify community-based tourism, offer tax incentives and encourage investors to join vocational training programmes for local residents, he said.
He also stressed that Kien Giang should study economic restructuring in the context of climate change.
He asked the Transport Ministry to study the feasibility of establishing a search and rescue centre on Phu Quoc island.
Kien Giang boasts a diverse ecological system with great potential for developing agriculture, forestry and fisheries. Last year, it grew 6.57 percent, higher than the nation's 6.21 percent.
Phu Quoc Island has thus far attracted 254 projects worth VND377.8 trillion (US$16.64 billion).