Malaysian lawyer Darryl Goon on September 29 stated that Malaysia might ask the International Criminal Court (ICC) to investigate and try those responsible for the downing of Malaysia Airlines' flight MH17 in eastern Ukraine two years ago.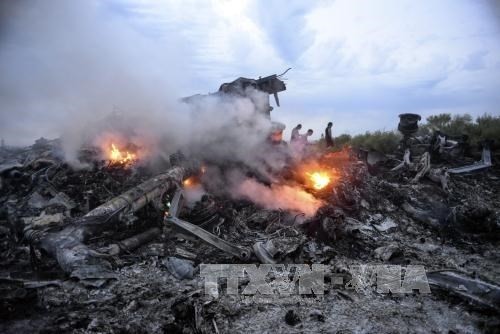 The scene of the Malaysia Airlines' flight MH17's explosion in Donetsk, Ukraine. (Source: EPA/VNA)
The New Straits Times cited the lawyer as saying that the incident happened aboard so Malaysia has no right to handle it.
Another Malaysian lawyer, Shailender Bhar, said authorities need to clarify who shot down the plane and stressed that this is very important, not only for Malaysia's efforts to search and punish the culprit but also paving way for suing them.
On July 17, 2014, all 298 passengers and crew members, most of them Dutch, died when the plane en route from Amsterdam to Kuala Lumpur exploded in the sky of eastern Ukraine.
In October 2015, the Netherlands' Security Commission announced the final investigation report on the case, confirming that the plane was hit by a surface-to-air BUK missile produced by Russia. It said the missile was launched from eastern Ukraine.
On September 28, 2016, a Joint Investigation Team led by Denmark also revealed their investigation results, which concluded that a BUK missile coded 9M38 shot down the MH17 from eastern Ukraine and it was then returned to Russia.