Rescue workers are trying to reach a missing miner trapped by tonnes of earth and water in a coal-mine tunnel in Quang Ninh province's Ha Long City. His name is Phan Van Van.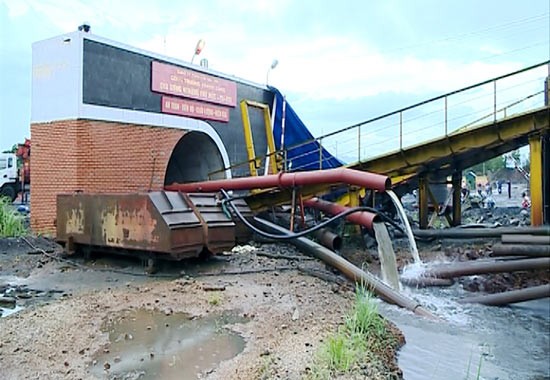 Water is pumped out of the tunnel (Photo: SGGP)
One miner was killed in the incident and another ten seriously injured.
The accident occurred at about 1am when a void holding water was breached during the extraction of coal. As the earth holding back the water collapsed, the tunnel was quickly filled with water, rocks and soil.
Twelve miners from the Thanh Cong Coal Company under the Hon Gai Coal Company were working underground at the Cai Da mining site when the void broke, releasing water and earth.
At 5am, rescue forces managed to bring out eleven miners who had been trapped in the tunnel for four hours. One miner, Trieu Quang Viet, was dead when brought to the surface.
Another ten who were severely injured are being treated at Quang Ninh Hospital.
One of the survivors Le Van Huy, 35, from Hai Duong Province, still could not believe he had made it out alive.
"We were working when suddenly we heard water, then a wave of water came flooding towards us," said Huy.
"Everyone screamed to run away. Some couldn't run fast enough and were washed away in the water, including me".
"I was fortunate enough to hang on an iron pipe," Huy said.
Another survivor, Do Duc Cuong, 29, also from Hai Duong Province, said how he, Huy and another miner struggled in the flooded tunnel to find a way out.
"We kept telling each other to hang on for our wives and children," Cuong said.
After noticing a hole barely big enough to crawl through, the three miners escaped the collapsed tunnel.
"Our mouths were filled with water and coal. We were too exhausted to say anything," he recalled.
Local authorities have offered initial support of VND6 million (US$270) to the dead man's family, and VND3 million ($135) to each of the injured miners.
Vice President Nguyen Thi Doan visited the injured on the same morning, asking the hospital to use all its resources to treat the survivors.
Quang Ninh Party Committee Secretary, Nguyen Van Doc, and People's Committee Chairman, Nguyen Duc Long, instructed relevant authorities and the coal industry to continue searching for the missing miner.
Nearly 400 workers were sent into the collapsed tunnel in turns to remove the soil in order to reach the place where he is trapped.
Meanwhile, pumps have been set up at surface level to pump the flood water out of the tunnels.
"The rescue work encountered a lot of difficulties as there are many flooded areas and tonnes of earth," said Hon Gai Company deputy director Do Van Kien.
The Prime Minister yesterday urgently asked the Viet Nam National Coal-Mineral Industry Corporation to co-operate with the Quang Ninh People's Committee to rectify the situation.