A 42-year-old man in the northern province of Thai Binh killed himself at a pagoda after he had shot five land officials on September 11 over possible disagreement over compensation in site clearance of land.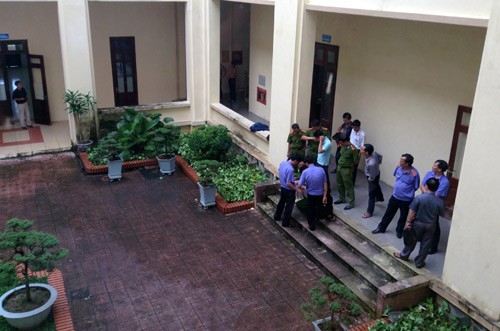 Police arrive at the scene for investigation (Photo: Tuitre)
Dang Ngoc Viet, 42, from Ky Ba Ward in Thai Binh City entered the office of the Land Fund Development Center of Thai Binh People's Committee on Tran Phu Street at about 2pm on September 11.
After walking in, the man asked where the leaders of the Center were and then shot five of the people who were working there.
Four people were shot in the head including Vu Ngoc Dung, 51, Deputy Director of the Center, and three employees named Nguyen Thanh Duong, 38, Bui Duc Xuan, 38, and Vu Cong Cuong, 23.
All the victims, including one woman, were taken to hospital for emergency treatment. However, Vu Ngoc Dung died at Viet Duc Hospital on arrival. The other three are in severe condition.
Pham Thi Lan Anh, 36, another Deputy Director at the Center, suffered slight injury to her right ear.
Police were quick in taking action and verified the shooter had used a Colt revolver loaded with lead bullets.
After the shooting, the man escaped and fled to his hometown in Tra Giang in Kien Xuong District and hid in a pagoda. He later shot himself in the head inside the pagoda.
The possible cause of the shooting might have been a disagreement regarding compensation for site clearance as before going to the office to commit the crime, Viet had rejected compensation amount offered by the Center.