The People's Committee of Da Nang City had approved a number of building projects for the center of the city since 2008, but so far none seem to have made much progress.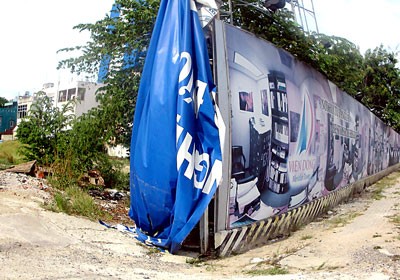 The tallest twin tower project in the central region is now an abandoned site in the center of Da Nang City (Photo: SGGP)
In May 2008, Da Nang City licensed the Viendong Land Company to build the 48 storey Vien Dong Meridian Tower building, the tallest building in the central region.
The 11,000 square meter project was planned to have a park and an underground parking lot to accommodate 600 cars. The building was expected to be fully operational by December this year.
However, till now the company has only fenced the area with corrugated sheets which gives the appearance of a large roadwork with overgrown weeds.
Right in front of this area is another project, the Golden Square by the Dong A Real Estate Company over a 10,664 square meter area that was kicked off in 2008. At that time the investor had pledged to complete it by 2011. However the construction is only half done with few floors built.
About 100 meters from this location is the Da Nang Center Complex project of the Vu Chau Long Real Estate Company, which broke ground in March 2008 for the construction of the 35 storey twin tower building over an area of 10,000 square meters.
The project should have been complete by 2011 as promised by the investor, but only its basic foundation is in place so far.
Tens of households had to be relocated and several public works had to be removed for construction of the above projects which are only showing tardy progress and marring the City's beautiful landscape.
Nguyen Van Chanh, office chief of the Da Nang City People's Committee, said that the main reason for the sluggish progress of the above projects was the sudden economic crisis, which greatly affected the real estate market as the Government had to tighten   credit.
The City People's Committee has already met with the investors to find measures to resolve difficulties which have held up these projects.
Authorities will continue to meet with investors and create advantageous conditions for them to carry out and complete these projects. If they still fail to speed up progress on the above projects, their licenses will be revoked and other investors invited to create fresh projects.