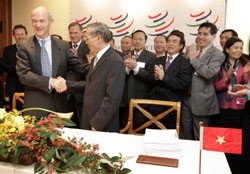 World Trade Organization (WTO) General-Director Pascal Lamy (L) shakes hands with Vietnamese Trade Minister Truong Dinh Tuyen after a signing ceremony, Nov. 7, 2006 at WTO headquarters in Geneva (AFP Photo)

Viet Nam drew much attention of the world on Tuesday as it became the latest member of the World Trade Organization.
The Bangkok Post said WTO membership will be a launch pad for the country of 84 million people to the world's economic playing field.
Head of Dragon Capital – a financial group who has had major investments in Viet Nam's stock market - Dominic Scriven said, "I think foreign interest in Viet Nam is the highest ever".
AFP reported that most Vietnamese welcome their country's joining in the World Trade Organization (WTO) but many say the country must accelerate its pace or fall behind as it enters the fast lane of globalization.
A recent international Gallup poll found that 75 percent of Vietnamese support globalization, saying it benefits the country, reported AFP.
Jonathan Pincus, chief economist of the UN Development Program in Viet Nam said, "The general public recognizes that this is part of Vietnam's integration with the rest of the world and they're very excited about it."
China's Xinhua news agency said WTO membership will be an economic drive force for Asia's second fastest growing economy, and provide Viet Nam with more opportunities to export and attract investment from 149 WTO member countries.
The Taipei Times said entering the WTO will make Viet Nam become much more competitive when it comes to attracting investment from ASEAN's former "little tigers" like Indonesia, Malaysia, Singapore and Thailand.
Related Articles: