Officials from the Government's steering board for Mekong Delta development, the Central Economic Committee, the Ministry of Transport, the delta provinces and project management units on Friday finalized their proposals to the Party and Government to speed up construction and improvement of roads and bridges in the southern delta.

A proposal is related to upgrading 16 bridges on National Highway 1A in the middle of Can Tho City and Ca Mau Province. They requested cost adjustments based on inflation for nine bridges being upgraded with loans from the Japan Bank for International Cooperation. They called for early disbursement for the other seven bridges.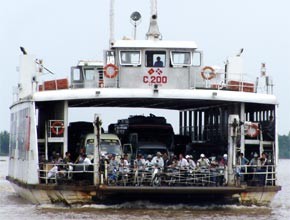 A ferry crowded with people and vehicles runs on the Hau River toward Can Tho City (Photo: Tuong Thuy)
The Mekong Delta as a whole has so many bridges of different sizes because of spider-webbed rivers.
The officials, who met in Can Tho City Friday, proposed adjustments for the expressway project between Ho Chi Minh City and My Tho City, which is called Ho Chi Minh City-Trung Luong Expressway. They wanted to know capital sources.
The officials also requested approval for a project to dig a canal for big ships navigating from the sea to the Hau River, one of the two main branches of the Mekong River. A proposal is issuing Government bonds to carry out the project.
Another necessary project is to expand National Highway 1A further in Ca Mau Province, up to the southernmost cape.
In addition, the steering board for Mekong Delta development brought to the Ministry of Transport various measures to further develop the region's road network. A necessary job is to expand the National Highway 1A section between My Thuan Bridge and Can Tho City, because more than 50,000 vehicles are counted on this section every 24 hours currently.
The real amount doubles earlier forecasts but it will even increase more, making the expansion of this section an urgent job task.