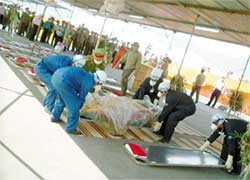 Fishermen remains are gathered to have DNA profiling
The naval ship HQ 629 received on May 28 a body of Vietnamese that was then treated with chemicals to be moved to Da Nang in the coming days. The body was found offshore in the evening of May 27.
Another report said that a Chinese ship had found three other sunken fishing vessels, which are DNa 90079, 2727 and one yet to be unidentified.
Doctor Trinh Luong Tran, Director of the Da Nang Department of Health, said that all the unclaimed bodies had been buried and DNA profiling is underway to produce the result within one month at the very least.
Up to 200 victims' families were asked to take DNA sample for comparison with the buried and potential dead bodies alike.
After the terrible impact of typhoon Chanchu, fishermen in recent days seem to be reluctant to resume normal work at sea. Plus, the rising of oil price has seriously affected deep sea fishing business.
The Ministry of Fisheries announced grants of VND1 million each for families of the dead and VND500,000 each for the injured.
The Sai Gon Economy – Information Technology School will offer courses free of charge and monthly grants of VND200,000 each to relatives of typhoon victims.
A live broadcast showing the images of the survivors, unlucky relatives and rescuers was on air on May 28. Audience had a chance to share the lingering sorrow of people affected by the tropical storm in many tearful stories. Reportedly, over VND4.2 billion was collected for the survivors and victims' relatives.

Related articles:
More Broken, Drowned Fishing Ships Found
Search for Typhoon Victims Continues
Over 600 Fishermen Survive Typhoon Chanchu
362 More Typhoon Victims Saved
Assistance for Victims To Overcome Damages of Typhoon
Over VND90 Million Donated to Typhoon Victims
President Tran Duc Luong Sends a Message of Condolence to the Typhoon Chanchu's Victims
State President Tran Duc Luong Sends a Message to Thank Chinese President Hu Jintao
China Rescues 330 Vietnamese Fishermen
Sai Gon Giai Phong Newspaper Raises Funds for Typhoon Chanchu Victims
General Secretary Sends Condolences to Typhoon Victims' Families
Central Vietnam Fishermen Return from Storm
Central Viet Nam's Fishermen Affected Most Seriously