Vu Quoc Tuan, chairman of the Vietnam Handicrafts Village Association, said at an online meeting on Thursday that only a mere 30 percent of traditional handicrafts businesses have access to bank loans.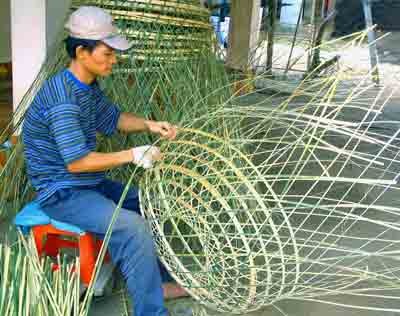 A worker weaving a bamboo item in a traditional handicrafts village in Vietnam (Photo: U. Phuong)
The meeting was held to review five years of development of traditional rural crafts villages. 
Traditional crafts villages have borrowed VND53,200 billion (US$2,5 million), an increase of 2.6 percent compared to the same period in 2006.
However, 30 percent of the enterprises received capital while most of the other businesses found it difficult to access capital due to bureaucratic red tape and complicated conditions laid, such as collateral mortgages and outline of pay back plan to banks.
Deputy Minister of Agriculture and Rural Development Ho Xuan Hung said the Ministry of Agriculture and Rural Development (MARD) will liaise with the Ministry of Finance and the State Bank of Vietnam to adopt measures to resolve this shortcoming.
Hung added that the country has 4,575 traditional handicrafts villages which attract more than 11 million labourers, creating lucrative employment for local residents. 65 different kinds of traditional handicrafts are made, some of which date back 100 years.