The Marine Police Department celebrated its 15th founding anniversary (August 28) and its new name as the High Command of Marine Police at a ceremony in Hanoi on August 28.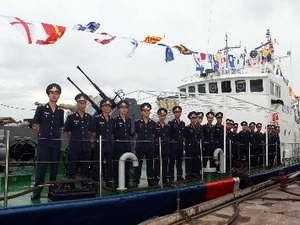 Officers and soldiers of the marine police (Source: VNA)
Addressing the event, Deputy Defence Minister, Sen. Lieut. Gen. Nguyen Thanh Cung praised efforts made by the force to ensure security and order in the national territorial waters.
Officers and soldiers of the marine police have surpassed all difficulties to stop and prevent law violations and crimes, while joining in search and rescue activities and international cooperation at sea.
Highlighting the unpredictable developments in regional and international situations, the deputy minister urged the Vietnam marine police to pay attention to enhancing its staff's awareness about the force's tasks and the Party and State's viewpoints on protecting the country's sovereignty over sea, islands and continental shelf as well as on the settlement of sea-related disputes.
With its outstanding performance during the past 15 years, the marine police force has been presented with many noble awards including the Feat Order, the First, Second and Third Class.
On this occasion, a decree newly issued by the Prime Minister was announced, under which the Marine Police Department is renamed the High Command of Marine Police.
Decree No. 96/2013/ND-CP, which amends and supplements Decree No. 86/2009/ND-CP, will come into effect from October 12 this year.