Ho Chi Minh City is gearing to celebrate International Children's Day on June 1, filling its supermarkets and shops with all kinds of toys and fun activities for little children.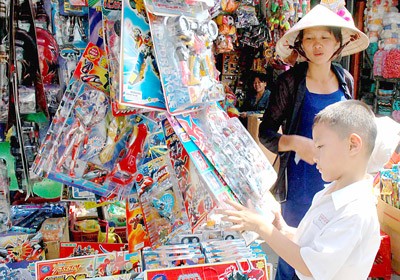 A young boy choosing toys at Kim Bien market which is flooded with toys from China.(Photo:SGGP)
Children across the country will have a plentiful choice of fun activities on International Children's Day as local entertainment centres are busy preparing for new children shows.
Many toyshops at Thap Muoi, Tran Binh and Le Quang Sung streets and some markets like Binh Tay and Kim Bien are buzzing with activity. They have received many orders to ship toy packets to provinces all over the city.
Many companies and organizations around the country have prepared thousands of gifts and toys to present to children on their biggest day. Food, drinks and toys will be presented to children living in open houses and shelters in rural and remote areas.
A shop owner in District 6 said that most toys are from China. There are so many toys that she cannot even remember all their names. Like Yo-Yo toys, which are of 20 different kinds, with prices ranging from VND15, 000 to VND390,000.
Walking around the market, Sai Gon Giai Phong reporters saw many toys without the CR safety guarantee mark. Children's toys with no CR mark are still being sold everywhere in Vietnam.
Entertainment for children
Toys are being sold not just in markets but also in the supermarkets accompanied with promotional and entertainment programs.
At the Vinatex Mart, 700 items will be on discount sale from 7%-70% from May 28 to June 1. Items include toys, study tools and clothes.
Maxi Mark also launched a promotional program for discount of 20%-70% for baby items. They have also prepared a playground for children until June 3 with various kinds of games.
From May 28 to June 1, MB Care Group will organize a shopping week at the Labor Culture House at Nguyen Thi Minh Khai Street in District 1 with more than 5,000 toys on discount sale up to 70%, besides many other programs for children.
Beginning daily from June 1 until the end of the month, the HCM City Circus Troupe will give performances on 23-9 Park in Nguyen Trai Street in District 1. The 100-minute circus and drama show, Bay Quy Va Vien Ngoc Rong (Devil and Dragon Stone), will have performances by leading young stars Luong Bich Huu and Thanh Ngoc.
The Ben Thanh Theatre on Nguyen Binh Khiem Street is planning dramas for children where skilled artists from the Thai Duong Theatre & Art Company will perform traditional plays such as Hoang Tu Ech Va Cong Chua Map (The Frog Prince and Chubby Princess) and Cuoc Phuu Luu Cua Chu Be Go Pinocchio (The Adventures of Pinocchio).
Many traditional games, music and fashion shows will be introduced in local parks such as Dam Sen and Suoi Tien.