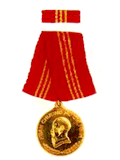 The Ho Chi Minh Medal
Revolutionary martyr Phan Van Han was awarded with the Ho Chi Minh Medal, one of the most prestigious awards given by the Government.
Phan Van Han was born in Cho Moi, a suburban district of the southern province of An Giang. He joined the nation's liberation revolution at the age of 15 and one year later became a member of the Vietnamese Communist Party. Mr. Han died in 1968 at the age of 43.
During his time, Nguyen Van Han held many important positions in the Government, including Standing Member of the Sai Gon – Gia Dinh Party Committee and Secretary of the Subdivision 2 of Sai Gon – Gia Dinh Regional Committee.
The award ceremony was held yesterday at Nguyen Van Han's residence by the HCMC Committee Organization Board.
The Ho Chi Minh Medal was first invented in 1947. The medals are given to those who have great contributions to the nation in many fields such as politics, diplomacy, science, art, and many others. The list of the Ho Chi Minh Medal laureates can only be decided by the country's President.