Many coastal fish cage farming households in Vinh Tan Commune in Binh Thuan Province's Tuy Phong District are concerning about recent massive death of fish and lobsters, blaming the Vinh Tan Thermoelectric Plant for releasing wastewater, causing marine pollution while local authorities have not given any specific conclusion.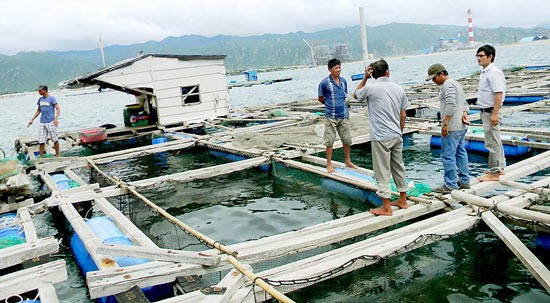 A floating fish farm in Vinh Tan Commune. (Photo: SGGP)
Mr. Nguyen Ngoc Loc, a fish farmer with more than 10 years of experience of fish cage culture in Vinh Phu Hamlet, said that the first massive death of fish happened in the night of September 12. The incident repeated the second time in the night of October 11, killing 70 percent of his cobia fish rearing in 20 cages. 
Around 1,000 cobia fish of Mr. Nguyen Van Gia in Vinh Phuc Hamlet which are ready to sell also suddenly died massively. Mr. Gia said that the incident happened too fast that he did not know how to deal with it because his fish were healthy then they waggled their tails violently and died. He said that he had never experienced such circumstance although he had been culturing fish in cages for nearly 20 years.
Lobster farmers were also affected. However, lobsters did not die immediately but gradually. It seems that lobsters absorb the toxin for a long time then fall ill. Dead and dying lobsters were not edible because their flesh was rotten already, said Mr. Nguyen Nhien in Vinh Phu Hamlet.
According to Mr. Nguyen Van Tam, vice chairman of People's Committee of Vinh Tan Commune, after two incidents, it was recorded that at least 87 out of 181 cages of cobia, grouper fish, and lobsters were affected with a death toll of 16,530 fish raised by ten households. The number of dead lobsters has not counted yet because they died slowly.
About the reason of mass deaths of fish and lobsters, all cage fish farmers in Vinh Tan Commune said that it was caused by wastewater released by Vinh Tan Thermoelectric Plant into the sea.
Mr. Nhien said that local fish farmers have been raising fish in this water for years but there was no mass death of fish until the thermal power plant started operation. They all knew that harmful wastewater released by the plant killed their fish but they could not get into the plant to get the evidence.
Control experiment results on dead fish, lobster, and sea water show that there were no Betanodavirus and Iridovirus detected but Vibrio alginolyticus. Mr. Huynh Quang Huy, head of the Aquaculture Department of Binh Thuan Province, said that Vibrio alginolyticus causes ulceration and haermorrhage which kill fish slowly instead of instantly and massively. Therefore, mass deaths of fish and lobsters in Vinh Tan Commune were not caused by epidemic diseases.
According to Mr. Huy, mass death of fish is only triggered by red tide, poisonous jellyfish or environment pollution. However, preliminary inspection report by the Aquaculture Department of Binh Thuan Province said that there was no sign of red tide or poisonous jellyfish at cage fish farms in Vinh Tan Commune.
On November 12, the Department of Agriculture and Rural Development of Binh Thuan Province held a meeting to inspect and determine the reason of massive deaths of fish in Vinh Tan Commune. However, the conclusion has not been announced.