Rapidly increasing area of pepper has destroyed agricultural planning in provinces in the Central Highlands of Vietnam meanwhile if diseases break out, causing massive death of pepper plants, the life- changing dream of farmers will be crushed. These will make the development of pepper become unsustainable.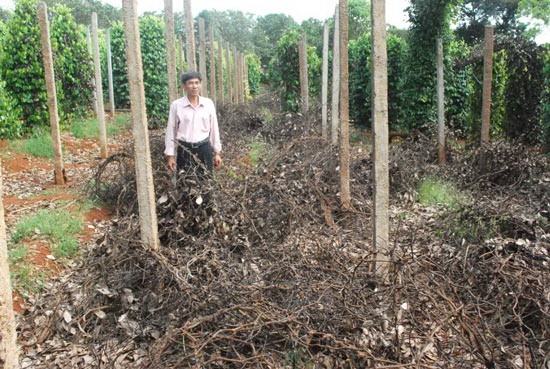 Pepper plants of a farmer in Ia Grai District in Gia Lai Province are dead because of diseases. (Photo: SGGP)
Mr. Pham Quang Muoi, head of the Department of Agriculture and Rural Development of Cu M'gar District in Dak Lak Province, said that the area of pepper unexpectedly shot up in the past three years, hitting 2,400 hectares. The price of pepper now has risen to VND200,000 per kilogram from VND170,000-180,000 per kilogram last year. If farmers have taken good care of their pepper plants, each hectare of pepper will yield around 4 tons of pepper, bringing in a profit of around VND700 million. There are not many of crops in the region that are able to produce such level of profit.
Because pepper is currently the most profitable cultivar so many farmers have rushed to grow pepper. This situation has ruined agricultural planning for the region. Many places in the region are not suitable for cultivation of pepper but farmers still grow pepper plants, causing poor development, contamination, and death for pepper plants. Since 2014, more than 100 hectares of perennial trees in the district have been destroyed in order to make room for pepper plants, said Mr. Muoi.
Meanwhile, Mr. Trang Quang Thanh, director of Dak Lak Province's Department of Agriculture and Rural Development, said that Dak Lak is one of the seven largest pepper growing provinces across the country. According to plan, the area of pepper will be 15,000 hectares by 2020 but the current area of pepper has exceeded 16,000 hectares. He emphasized that this was merely statistical figure and the actual figure might be much bigger.
 
In the last two years, around 1,341 hectares of rubber trees in the province had been chopped down for cultivation of other crops, such as: pepper and macadamia, he said.
 
The fact that farmers rush to grow pepper will badly affect provincial crop structure. If the price of pepper drops in the future, farmers, again, will abandon pepper for another plant, said Mr. Do Ngoc Duyen, director of Dak Nong Province's Department of Agriculture and Rural Development.
 
Because of high pepper price, farmers in Gia Lai Province defied risks and authorities' warnings to cultivate pepper plants. According to the plan, the area of pepper in the province was 6,000 hectares by 2015. However, by the end of 2014, the area already reached 13,000 hectares.
 
550 pepper poles of Le Huu Nguyen in Ia Pal Commune in Gia Lai Province's Chu Se District were grown about two weeks ago but until now around 70 pepper plants were dead. He said that he unfortunately bought poor pepper saplings. Pepper plants of other farmers are also dying gradually. Many households were broke due to massive death of pepper. Figures in 2014 show that more than 216 hectares of pepper were dead in Gia Lai Province; 122 hectares in Dak Nong Province; and 1,400 hectares in Dak Lak Province.
 
Lack of experience and knowledge has caused pepper productivity to lose by 30-40 percent or even completely lose. Unsuitable land will cost high investment capital but bring in low production. In addition, it contains high risk of pepper disease outbreaks. Moreover, pepper saplings in Vietnam are not of high quality, which makes it hard to control diseases on pepper.
 
In order to ease difficulties for pepper, farmers in the Central Highlands provinces should be trained carefully. The Government should finance programs about sapling research. Provincial agricultural should develop pepper sustainably, aiming at stabilizing productivity instead of increasing it and encourage farmers to use biological measures to prevent diseases on pepper instead of chemical ones.

Related article:
Central Highlands farmers rush to grow pepper